I Want To Tell You: Larry Kane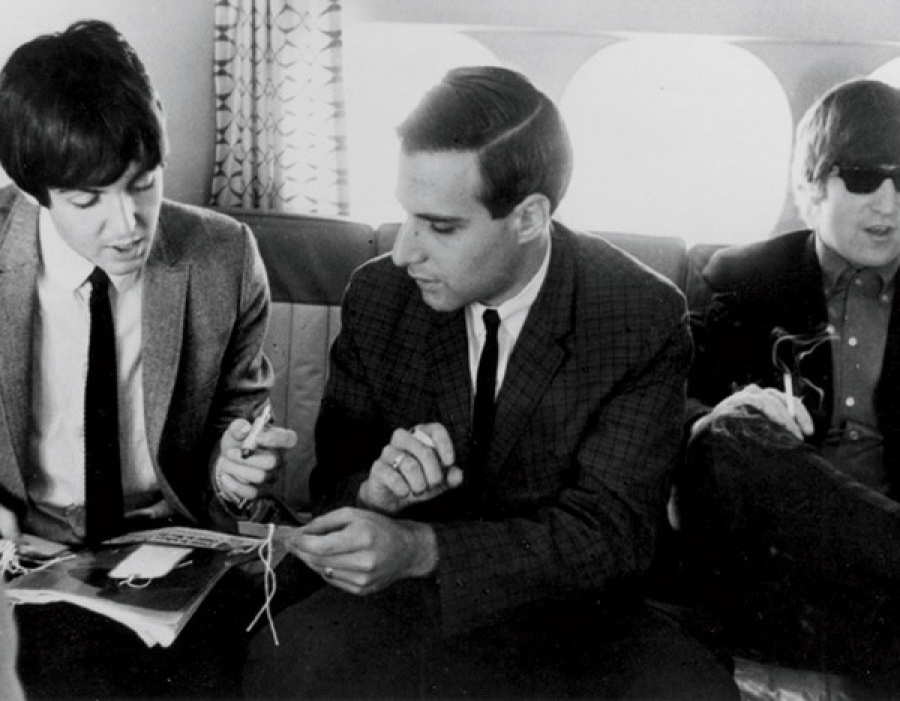 Larry Kane is a respected US TV news anchor and author who has enjoyed a long career bringing hard news to viewers on America's East Coast.
But as a 21-year-old radio reporter in Florida in 1964, a request to interview a British group making its first visit to the States turned in to an assignment that criss-crossed the country as he became the only broadcast journalist to travel with the Beatles to every one of their stops on their inaugural tour.
He witnessed the Beatlemania phenomenon at close quarters both in 1964 and 1965, and later documented the experience in his book Ticket to Ride.
And this year Larry is making a special guest appearance at International Beatleweek, where he will lift the lid on what it was like to be at the epicentre of the Fab Four madness.
Ahead of his visit, he took some time to answer a few of our questions.
You've had a long and distinguished career as a news anchor, but for many you will always be the journalist who toured the US with the Beatles. What are your feelings about that?
I feel fantastic that so many people see my covering the Beatles as something I'm mostly associated with, but here in the greater Philadelphia region, it's a little different. People associate me with anchoring the news and reporting it. But in recent years, the Beatles are number one, even here.
I'm thrilled that people associate me with the touring years because, despite the fact that I didn't want to go, it turned in to a life-changing experience.
It was an electrifying experience, and something that I view as a turning point in my life and the lives of millions of people.
In a special way having an oversized role in the (Ron Howard) movie was, personally, a way to share stories of just how remarkable they were on a personal level. Few people know this, but my experiences with them actually led to my hiring at a radio station in Philadelphia, and a transition to television.
It never would have happened without them. I became a big city anchorman at the age of 26, and indirectly I owe it to them.
In 1975, by the way, John visited for a charity event, and actually served as weatherman for one night on my broadcast! It's on YouTube.
You were much the same age as John, Paul, George and Ringo when you ended up (reluctantly) touring with them. Can you give a sense of what it was like to be in the eye of the Beatlemania storm?
Being in the eye of the Beatle's cyclone of stardom in America was more than eye opening; it was in a way like living in a bubble – a dramatic up close look at the real people.
My age was a bonus, but we were very different people. I was as John said, "a nerd from the fifties", and they were "cool" and "groovy" as we would say then. The clash of cultures worked. We became fond of each other.
I was so impressed – what panache and professionalism. During my appearance in Liverpool, by the way, I plan on telling some stories that are not in the book or the film. I think there will be lots of laughter and surprise.
What, in your opinion, was it about the group which captured the American imagination in a way no other British band had managed before?
Their cheeky sense of humour, their incredible stage presence, and most of all, their music captured the attention of a nation that was going through the trauma of a Presidential assassination.
One important point: there were four of them, and most young women in the audience were convinced that one of them was singing directly to them!
Amazing phenomenon. One that got me in big trouble one night.
What do you think now when you look back on those days?
I treasure those 20-hour days – the non-stop level of energy, the proximity to the boys and Brian, meeting the fans and trying to deliver the news daily. I was never the same after that.
When people see the film, they say: "Was it that crazy?" And I usually add—"it was worse."
I mean, how many people can say they had to dive to the floor in the back seat of a car as the roof was collapsing from the weight of the fans and getting closer to your head?
You're appearing at the Beatles Convention this year – what are you looking forward to most about your trip to Liverpool?
I love Liverpool. It's very similar to Philadelphia, same size, gorgeous parks, and people with accents. The people of Liverpool are warm and helping and mostly sweet.
I'm looking forward to seeing Freda (Kelly), Billy Kinsley and all my other friends from my trips there, and especially to see a really "international" crowd.
I plan on walking through the convention and seeing what's being sold.
I'm just excited to be there, although I may go to London Saturday (doubtful but possible) to meet with my friends at Apple Corps.
I'm hoping for some hard hitting questions from the audience, and frankly, to learn even more. I may take the ferry, something I've never done before.
All in all, I'm thrilled to be coming to UK.