The Pier Head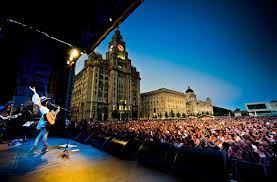 Description
They define one of the most beautiful skylines in – well we'd say the world – the Three Graces consist of the Royal Liver Building, The Cunard Building and the Port of Liverpool Building and they situate themselves on Liverpool's Pier Head.
These majestic buildings were conceived and constructed as visible symbols of Liverpool's international prestige, proud emblems of its commercial prowess.
The Royal Liver Building the jewel in the crown, adorned by two Liver Birds, is the city's signature landmark. The Liver birds are the city's emblem and you'll find them dotted across Liverpool's precious architecture.
The British Music Experience, located on the ground floor of the Cunard is a permanent exhibition dedicated to some of the finest British music artists ever to walk the globe, from 1940 to present day.
The Pier Head itself has many other famous attractions and landmarks to visit from The Beatles Statue that was erected in 2015, to the famous Mersey Ferry that docks in front of the Mersey Ferries Building.
The Museum of Liverpool is a landmark building, erected on Liverpool's Pier Head in 2008. The Museum is dedicated to the history of Liverpool City Region and its top floor viewing gallery offers some of the most picturesque views of Liverpool's beautiful Pier Head.
Pier Head has been home to many outdoor events including the Eurovision Song Contest which the City of Liverpool hosted on behalf of Ukraine in 2023, and of course…the Mathew Street Festival. It will once again, play home to this much missed festival after 10 years in 'A Tribute to Mathew Street Festival' event on Monday 26th August for International Beatleweek.
Contact
Address
Pier Head, Liverpool