TR5's, The (England)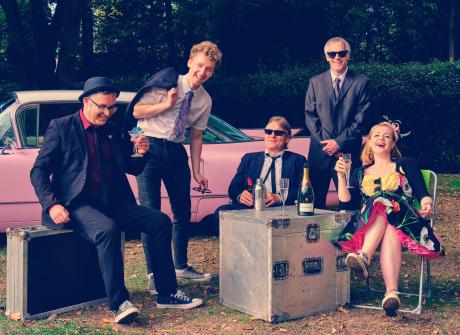 The TR5's are Rusty, Lucky, Richey, Finn and Ted. Maximum skiffle & roll from the dancehall days, somewhere between The Cavern Club and Canvey Island.
The TR5's are unique in many ways. Part skiffle, part Rock 'n' Roll and part early R 'n' B, their sound epitomises a bygone era of cool, with an epic sounding unit of voice, acoustic guitar, electric guitar, the bass and drums.
With set lists made up of out-of-the-ordinary (but not unknown) '50s and '60s tunes, deliberately chosen to stand out, the band are guaranteed to capture your attention and have you hitting the dancefloors. Their charismatic and energetic stage show is perfect for those great nights out that we all long for again.
The band have performed in Liverpool before, including Pete Best's "Best Fest" at The Casbah but this will be their first appearance at International Beatleweek.
Back to lineup