Murphy, Logan [The Beatles Boy] (England)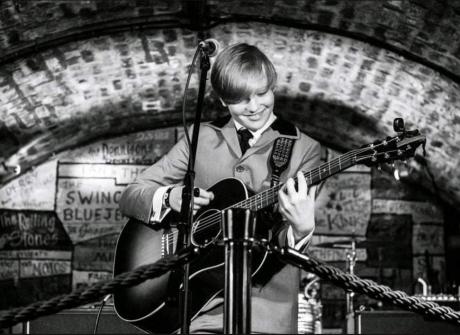 Logan Murphy ("The Beatles Boy") is a 17-year-old solo artist from Cumbria, playing International Beatleweek for the third time (in-person) with different sets planned for both acoustic guitar and piano. Five years ago, he caught our attention busking on Mathew Street in his Paul McCartney style Sgt. Pepper suit and was invited down to the club, impromptu, to play a few songs on the front stage and has been back for several guest appearances when in town.  
Logan sent us some fab videos for Virtually Beatleweek in 2020 before playing his first fully fledged festival last year, playing every day of the festival all over the city, establishing himself as one of the best up and coming entertainers on the scene with a wide range of Beatles songs that is ever growing. 
Logan is now a seasoned, gigging muso with a strong worldwide following on social media and has been on TV and local news talking about his music and his gigs in Liverpool. During the dark days of lockdowns, he regularly live streamed gigs showing off his versatility on guitar and keys with renditions of Beatles songs and other favourite influences like Pink Floyd, The Bee Gees, Elton John and Billy Joel. He recently auditioned for Britain's Got Talent with a 15-song Beatles medley, getting 4 yesses from the judges.
In the last couple of years Logan has released his first original single and has continued to pursue songwriting with follow ups 'Date Night,' 'The Ballad of Jerry Lee' and 'The Streets of Tin Pan Alley. A talented lad who is destined to become a Beatleweek regular for many years to come. Don't miss him, he's a star! 
Back to lineup