She's Leaving Home (Finland)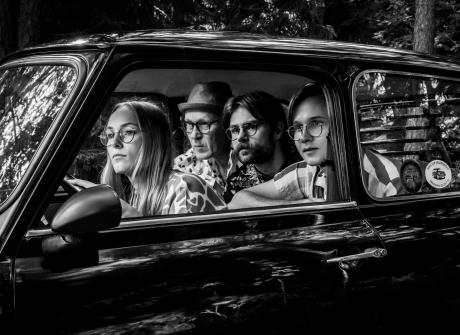 "Guitar groups are on the way out…"
She's Leaving Home are a Beatles Tribute band from Finland playing The Beatles like you've never heard them before. Fresh, new takes, rearranged by keyboard whizz, Riddo Ridberg and delivered by female vocalist Myyri Ruokolahti, backed with the funky grooves of Anton Elmvik on bass and Oliver Tschernij on drums. Oh, did we mention there are no guitars?
Keyboardist Riddo Ridberg has, for decades, played in a variety of bands, including a Springsteen and a Deep Purple coverband. In 2017, he started his long-awaited Beatles tribute band. The idea was to create new versions and arrangements of the songs, with two main caveats: 1. a female singer and 2. a lack of guitars. The Beatles' evergreen lyrics and melodies gets a new, keyboard-driven (and often a bit funky) packaging.
After their performances at Beatleweek 2019, the doors opened to Brazil and Russia where the band performed at Niteroi Beatle Week in Rio de Janeiro in December 2019 and in St. Petersburg in January 2020.
During the two pandemic summers, the band has arranged several "garden tours" in their hometown of Pargas in Southern Finland, where the band has played up to eight short gigs at different homes in one day.
Without doubt, one of the highlights of 2019's event, this band are not to be missed!
Back to lineup