Fab Twins, The (England)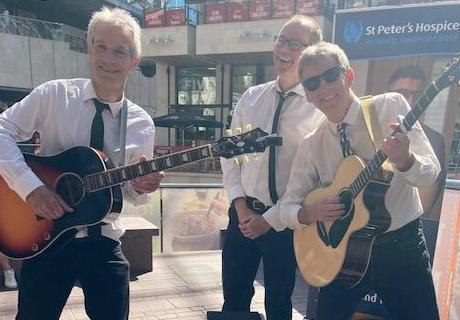 Fourth time around for this acoustic duo from Bristol (or fifth to include Virtually International Beatleweek in 2020). The Fab Twins have added another "sibling", making them The Fab Triplets this year with their Cahon player, Andy. Despite being somewhat younger he still gets to sit down at every gig but does add some backbeat to the twins' duelling guitars and vocal harmonies.
Stace and Jon are often asked if they are really twins, not unreasonably considering the group's name, but no actually… they're just good friends. The Fab Two didn't sound as catchy either.
International Beatleweek makes room for all types of ensemble and we do love a good acoustic stage. The boys have been delighted to find that their non-Fab Four numbers get such a positive response at the festival as well as in their many other gigs throughout the year. As well as plenty of Beatles hits and obscurities (expect some songs from the BBC sessions), their sets always feature some influences and contemporaries of The Beatles including the Everly Brothers, some Buddy Holly, Simon & Garfunkel and Mersey Beat!
Back to lineup