Bertils, The (Sweden)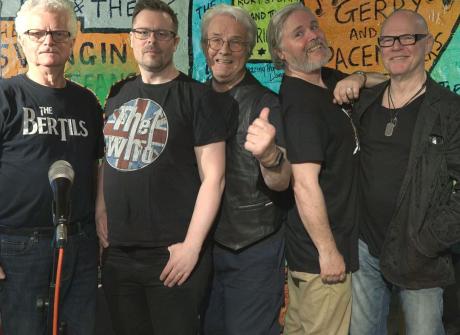 Covid stuck everyone and everywhere, including The Bertils.  The band was booked to go to "Beatles On The Beach", an event at Delrey Beach in Florida, when Mr C hit and the trip was cancelled two days before departure. Anyway, the invitation still stands and they (again) look forward to striking Florida around Mars/April 2023! 
In the meantime we, Cavern City Tours, have taken the liberty to invite them to Beatleweek again. Kent, the band leader, has also convinced us to bring back Pepperland and Rocks Off, with a big bunch of hungry Swedes, in big need for sixties music, pub life and allnighters. Local bus and walking tour guides are always surprised, because Swedes always turn up the next morning, virtually alert and fit for fight(s).
This year, The Bertils are: Jimmie Rudolfsson, bassman, a big Macca/Beatles, Stones and The Who-fan. In his early days he fronted his own Stones' tribute band. At present he shares his time between The Bertils and Bluebirds Over Sweden. Olle Strååt (pronounced Strawt) a stable drummer boy, earlier with another tribute band, Rubber Sole. His college studies took 11 years, because he used most of his time to play in student orchestras. The keyboarder is Olle Bengtsson, known to many BW guests, formerly with Pepperland, nowadays in a number of other constellations, the newest one being Harrisongs (you can guess what they play). And he brings over Mille Andersson, also with Harrisongs, to join The Bertils. He also plays lead guitar with other bands like Flowerheads, Sweet Soul, and YaYaMen. Finally, we have Kent Adeborn, rhythm guitar, who started his first band at the age of 14: "The Stupid Fools" (Later "The Orbeats", inspired of space travel and The Beatles, both hot items those days). Then he paused for 50 years, and finally formed the Bertils, about 10 years ago.
Back to lineup