Beatline (Finland)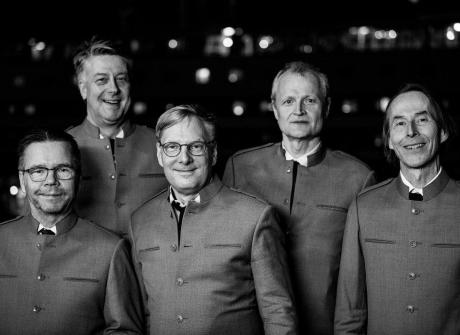 Beatline are a band from Tampere, Finland playing timeless and joyous, nostalgic '60s Pop & Rock music. The band also write their own songs based on Mersey Beat and '60s British Pop.
Beatline were founded 10 years ago by musicians who had been big fans of Beat music all their lives. The band have played a variety of concerts, festivals, balls, company parties and also at the legendary Liverpool Cavern Club together with famous Finnish artists Seppo Tammilehto and Freeman.
They've also been involved in Abbey Road on the River and Beatles on the Beach in the USA, have done concerts in Spain as well as Beatle events in their home country of Finland, where there is a large community of Beatles fans, many bands and artists, all of whom have been part of International Beatleweek.
The band had previously attended and played at International Beatleweek in 2014 but have developed a lot over the last 9 years and are looking forward to doing it all again in 2023.
Kari Käärinen: Lead Vocals, Rhythm Guitars
Esa Teponoja: Lead Vocals, Lead Guitars
Masi Luoma: Keys, Backing Vocals
Juha P. Järvinen: Drums, Backing Vocals
Pekka Haavisto: Bass, Backing Vocals
Hannu Siren Bass: Backing Vocals
Back to lineup