Beatles Complete (England)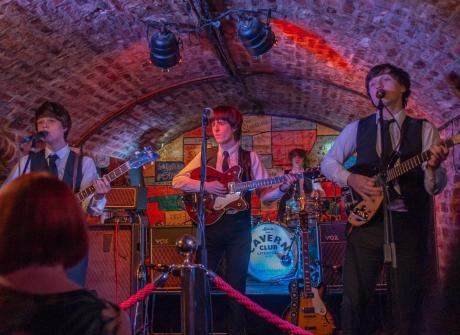 These local lads are the youngest Beatles tribute act at the Festival this year and are an absolute must on your 'to see' list!
Every few years Apple bring a new generation into this Beatles phenomenon,
with new releases such as: Beatles Anthology, Rock Band, Stereo and Mono Remasters, 50th anniversary deluxe editions and most recently, Get Back, the three-part docuseries on Disney+ by Peter Jackson. New Beatle bands are vital for the future of the festival, so let us introduce to you: Beatles Complete! Making their Beatleweek and Cavern debut last year, with a festival largely made up of UK-based acts, the lads have already grown their fan base. Not long after, they were invited to start performing their set weekly in The Cavern Club on a Saturday afternoon.
These local lads are all between the ages of 15 and 19. They began last year
with Max (George) and Joe (Paul). Joe was purchasing a Höfner bass at his local music store and spotted an ad for the band, a year later George (ex LIPA) and
Tom joined as John and Ringo. Max will also be no stranger to anyone who tuned into the Cavern live streams as he made special guest appearances. Together
they have decided to start the next generation of mop tops! This year one of their highlight performances will be on Tuesday's 'Yesterday and Today' show which puts the spotlight on new and upcoming Beatle bands and Beatleweek favourites from yesteryears. Expect the raw energy and youth of the early Beatles!
Back to lineup