Auguszt Bario Band  ( Hungary & Austria )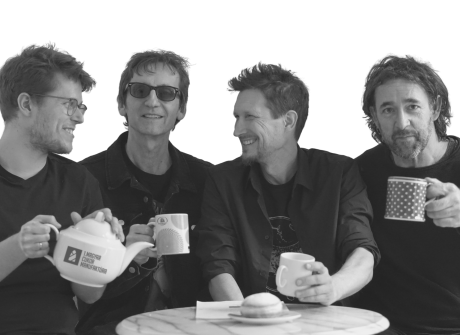 Bario Auguszt is a Hungarian musician, songwriter, and guitarist currently living in Vienna, Austria. It has been a lifelong dream of Bario's, to play at Beatleweek together with his friends.
Although he has previously attended the festival as a Beatles fan, this will be his first time performing at the event. He will appear alongside guitarist Thomas Beham and drummer  Gergely Őszei who are both part of a band called  The Huckleberrys. During their work together they found out that they're both huge Beatles fans, and that's how they came to be in the Auguszt Bario Band.
They put emphasis on authentic sound, and the joy of the songs, they are bringing their dearest Beatles songs to Liverpool. Bárió is a huge Beatles fan, and has been ever since the age of 17.
Bario started his career by singing Beatles songs in his hometown Kaposvár, together with the bassist of the Auguszt Bario Band, Gábor Gál. Since then, he's been playing Beatles songs in various formations, both in Hungary and in Austria. Together with drummer Gergely Ősze, they're also working on a jazzy Beatles project as well.
In 1984 he won the "Pesti Műsor és a Magyar Hanglemezgyártó Vállalat Tinisztár '84" talent show. At 17 years old he released his first EP as a (then popular) vinyl record under the name "Megy a Bárió".
In 1987 he became acquainted with György Goodwill and Jimkó Földes. Together they formed the successful band AD Studio, which has reached multiple gold and platinum record sales.
Their most popular hungarian hits: "Álmaimban Amerika", "Páratlan Páros", "Nyári Eső", "Valami Nagy Szerelem".
In 2000 Bárió released his first solo album "Mikor a föld alszik", after which they continued working together as AD Studio.
A defining height of their career was the Emmy-Award winning Director, Gábor Csupós movie "Immigrants" (2008), for which they wrote a song used for the soundtrack: "Álmaimban Amerika", for which Bárió designed the soundtrack album cover for.
In 2019 Bárió took part in a concert with Steve Sidwell in Vienna, in the form of a Beatles project (Vienna Music University – Beatles: Reimagined – CUBE Projekt), where he sang "Back In The U.S.S.R." on an orchestra arrangement created by Gergely Ősze as a student at The University of Music and Performing Arts Vienna.
Steve Sidwell is a Grammy-Award winning music producer, conducter, and among others he produced the soundtrack to Bohemian Rhapsody (2018), and he's worked with Paul McCartney, Robbie Williams, George Michael, and many other celebrities.
Bario Auguszt – lead vocal, guitar
Thomas Beham – lead guitar, vocal
Gábor Gál – bass, vocal
Gergely Ősze – drum, vocal
Back to lineup