John & Paul: "It was Fete"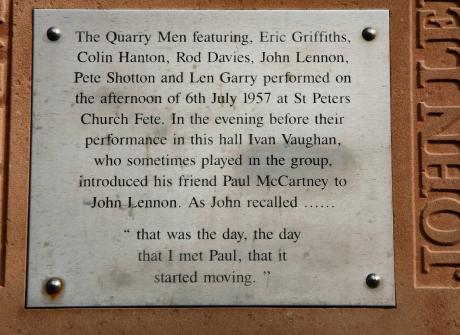 53.3759323,-2.86895329999993
26th August 2017, 12:00pm
TICKETS FOR THIS EVENT ARE NOT AVAILABLE FOR INDIVIDUAL TICKET SALE AND CAN ONLY BE PURCHASED AS PART OF A PACKAGE.
PACKAGES WILL NOW ONLY BE AVAILABLE FROM THE CAVERN CITY TOURS HELP DESK LOCATED IN THE ADELPHI HOTEL:
THURSDAY 10AM – 8PM
FRIDAY 10AM – 8PM
SATURDAY 10AM – 8PM
SUNDAY 10AM – 6PM
"What about the time we met…" Sixty years ago, on 6thJuly, a certain John Lennon was introduced to a young Paul McCartney. The rest, as they say, is history. This meeting took place at the Woolton Garden Fete at St. Peter's Church and the whole event is being replicated especially for you. John & Paul: "It was Fete" will take place on the same field with the full support of the Church, the School and the Woolton Community. A great way of raising funds and profile for this historic area whilst at the same time interacting with the Quarrymen, Julia Baird and the various other luminaries who were actually there on that fete-ful day.
*Beatles themed fancy dress / costume contest! Lots of prizes to be won!
---
Buses will be available from 11:30am – 6:30pm. The last bus to depart the Adelphi will be at 5pm and the last bus to depart Woolton will be at 6:30pm. Your ticket also includes a souvenir programme!
---
*This event is only sold as part of a package*
This event is included in the following packages:
Venue
St. Peter's Church
St Peter's Church, Woolton, Liverpool, United Kingdom