Wonders, The (Italy)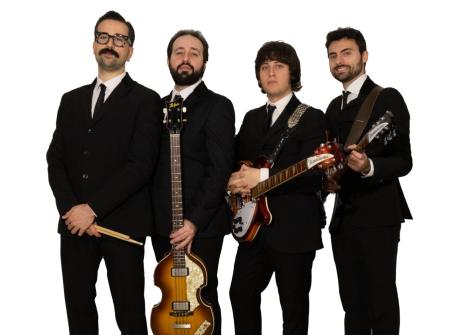 The Wonders are one of Italy's youngest and most acclaimed Beatles tribute bands. Let them take you into a magical mystery tour throughout the Beatles' most famous songs from 1962 to 1970, including She Loves You, Yesterday, Help!, Strawberry Fields Forever and Let it Be (just to mention a few), celebrating the most famous 8 years in the history of music.
During the show no pre-recorded tracks or samplers are used for their 100% live performance, keeping all songs in the original keys. All components of the band use stage costumes and vintage instrumentation, according to the period of The Beatles represented.
The Wonders were born in 2010 in Bari, southern Italy, and have done several important gigs that are milestones in the band's memories, but their most important achievement was a performance on national television on 25th June 2015 on prime time "Rai 3", on the occasion of the 50th anniversary of The Beatles' Italian shows, on aprogram called "Vedi chi erano i Beatles", conducted by Fabrizio Frizzi. This was possible due to the band winning the "Fabfour Contest", a national competition of over 30 Beatles cover bands that The Wonders won. In 2019, the group did a theatre tour focused on the last years of the Beatles' career, called "1969 I Beatles nella Leggenda" with a string quartet, a pianist and a narrator.
We are looking forward to our second time in Liverpool! Our first Beatleweek in 2017 was thrilling and amazing, and also the following one in Belo Horizonte, Brazil, with so many friends we have met there! So this time we are ready to rock 'n' roll for all the gigs, and this year will be essential playing those magic songs from the The Beatles' first album 'Please Please Me,' for its 60th anniversary! A WONDER(S)ful birthday!!!
The Wonders are:
Piero Mazzei – Rhythmic Guitar and Vocal
Lorenzo D'Urso – Bass and Vocal
Stefano Piancastelli – Lead Guitar and Vocal
Giuseppe Santorsola – Drum and Vocal
Fabio Prota – Piano and Synth
Featuring special guests:
Fiorangela Togo, Emilia Fantozzi, Antonella DelMedico and Giulia Parlavecchia.
Back to lineup