UnionJack British Invasion Band (USA)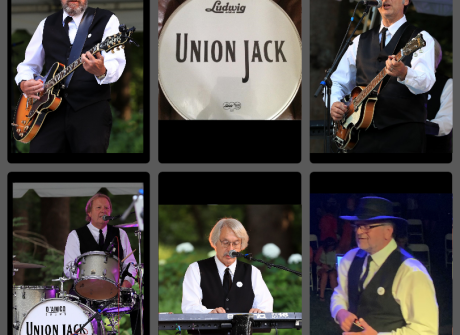 Featuring the sounds of the 1960s' British Invasion and beyond, UnionJack takes you back to the days of The Beatles, Rolling Stones, Moody Blues, Hollies, Gerry & The Pacemakers, Kinks, Searchers, etc.
UnionJack is New England's most popular British Invasion Tribute band.
The band has been featured at Foxwoods Casino in Connecticut and at the Abbey Road on The River Festival in Louisville Kentucky, Jeffersonville, Indiana, Washington, DC as well as in Cleveland Ohio. It was at AROTR in Louisville that they met Jon Keats, who invited the band to Liverpool. It's been a few years in the making but we're very pleased to be able to reciprocate this "American Invasion" in 2022.
They have featured shows that are "All Beatles", "Beatles and Merseybeat/British Invasion bands", '60s and "Summer of Love" Tributes as well as Complete Beatles' LP Shows.
UnionJack has had the pleasure of opening onstage for Herman's Hermits Starring Peter Noone, Bo Diddley, The Fifth Dimension, The Commodores, The Band, Ritchie Havens, and many others.
Current regular lineup: Dave Lempke (drums, vocals & compere), Michael van Hoesen (Lead Vocals), Peter Schindelman (bass, vocals & guitar), Greg Mitchell (keyboards, percussion & vocals), and Jim Brown (guitar, vocals, & harmonica)
Back to lineup