Two of Us (Netherlands)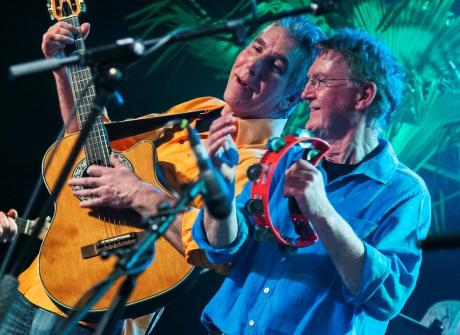 Adrie van Osch and Jos Vervoort have memories, longer than the road that stretches out ahead. They perform regularly at parties and festivals, such as International Beatleweek.
They first played Beatleweek in 2000 and that almost adds up to 100 gigs in Liverpool now.  Performing in 2019 will be their 20thanniversary! The pinnacle of their career has been performing at the holy grail of Beatles venues, the Cavern Club, a sacred place for any Beatles fan. 
In 2010 the band was invited to play at the Cavern Club in Buenos Aires. That was a fantastic experience, never to be forgotten.
Adrie and Jos adapt the music of their youth as authentically as is possible for a two-man-band. Arranging the complex Beatles songs for one guitar, two vocals, a sax or flute and a tambourine is a challenging task.
They get many compliments from their audiences from the result. Within their extensive '60s repertoire they play more than a hundred Beatles songs. At their gigs in Liverpool, Two of Us hand out a list of their songs and only play full sets of requests from the crowd and the result is a warm, mellow, appreciative gathering of Beatle fans rekindling the magic of the music.
Two of Us are Adrie van Osch (guitar, vocals) and Jos Vervoort (vocals, tenor sax, flute, mouth-organ, tambourine).
Back to bands