Two of Us (The Netherlands)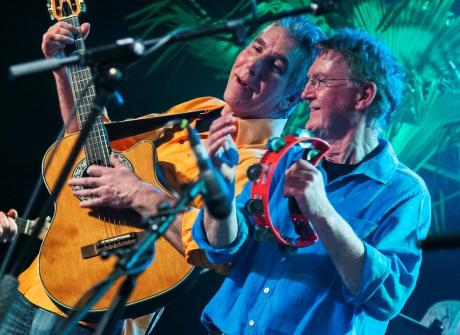 Two of Us will forever have a place in Beatleweek history for being the only international act to travel from outside the UK for 2021's festival. Most bands, understandably, couldn't come because restrictions and complications due to the pandemic. Restrictions were lifted a couple of weeks before the festival and they made the immediate decision to drive over and play. Some fans also cycled over from Sweden and Fernando Duarte (Brazil) and Paul Kiddle (Argentina), who live in the UK, enabled us to still deliver a Beatleweek with an International flavour. 
Two of Us are an acoustic duo comprised of Adrie van Osch and Jos Vervoot. Adrie on guitar and vocals, while Jos also contributes vocals and a variety of instruments: tenor saxophone, flute, mouth organ and tambourine! They adapt the music of their youth to sound as authentic as is possible for a two-man-band.
They debuted in 2000 and have played over 100 BW gigs, from the Mersey Ferry to the Hard Days Night Hotel as well as the usual Cavern and Adelphi stages in between. 20 years later they feel at home in Liverpool with their Beatleweek family, who come to see them annually. They'll hand out lists and only play the requests of the public from 150 songs. That doesn't mean they don't have their own favourites (Eleanor Rigby and Fixing a Hole) but the public's wish is their command; In My Life followed by Norwegian Wood are the frontrunners.
One of their highlights over the years was meeting Len Garry and Colin Hanton in the very place where John and Paul first met, whilst filming a Two of Us documentary in 2014. Playing with those Quarrymen felt as close as one can get to playing with the Beatles themselves. They look forward to making more memories at this year's festival!  
Back to lineup