Tinos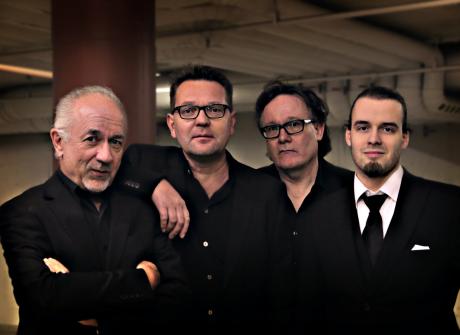 Tinos (Finland)
One of the most authentic bands playing 60s music in Finland is Tinos, who define their style as follows: "We play with a genuine energy and strong musical elements, vocal harmonies and gritty sounds, while also safeguarding the originality of the music."
The story of Tinos is typical of its contemporaries – Finnish 60s music bands with school boys starting to play together and gaining some local popularity. The band took its name after its first drummer, Robertino "Tino" Casagrande. Their career peaked, when they got a chance to perform at "Natsa", the then No 1 hot spot in Helsinki.
Tinos took a longish break in 1970 for various reasons. But when their native town Lohja arranged the first beach party "Rantajamit" in 1991, the group was asked to perform as the main act. This was the start of Tinos' second coming.
The band's present line-up includes Kari Aulo (lead guitar, backing vocals), Jussi Koskinen (rhythm guitar, vocals), Janne Viitanen (bass guitar, vocals) and Hans Sjöblom (drums, vocals). The musicians come from different backgrounds, but they have all been strongly influenced by The Beatles.
To celebrate their 50th birthday in 2015, Tinos published a CD containing songs from their normal repertoire with music from e.g. The Shadows and The Beatles. On their second CD from 2017, they cover more music of The Fab Four, and also Mersey sound hits of The Searchers and Gerry & The Pacemakers.
Today, Tinos mainly perform at company events and family functions, on local festivals and 60s happenings. They like to play melodic, harmonious, easy-to-dance pop-rock, rock'n'roll and instrumental music in the original 60s style. Now that there's a chance to see them making their first appearance during the International Beatleweek Festival in Liverpool, be sure to catch them – you won't be disappointed!
Listen to them  on Soundcloud here!
Back to bands