The Rockits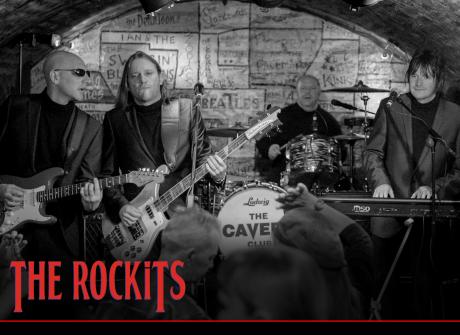 The Rockits are one the finest 60s tribute bands in the UK, performing an infectious set of classic rock & roll from artists such as The Beatles, The Stones, The Who, Kinks, Small Faces, Elvis, Spencer Davis and many more.
Following her chance meeting with The Rockits in 2011, John Lennon's sister and Cavern Club Director Julia Baird quickly recommended them for a weekly residency. Now in their 5th year at the Cavern, it is not surprising that the Rockits have become one of the most requested live acts on the circuit; as well as popular regulars at International Beatleweek.
Between them they have covered most aspects of the music business, working alongside artists such as Earl Slick, Gerry Marsden, Tony Sheridan and Chris Montez, touring many countries and recording in studios throughout the world including Abbey Road Studio 2 and Sun Studios, Memphis TN.
In 2016 the band performed some incredible shows backing Monkees legend, Micky Dolenz at International Beatleweek, followed by trips to Sweden for Bealte Day Gothenburg and an event with The Overtures.
This year the band launched their brand new "Simply 60s" show to a packed crowd in the Cavern Live Lounge on Easter Sunday and return to this year's festival for a special Monterey themed set on Thursday night followed by The Summer of Love Band reuniting for a special celebration of al things 1967 at the Philharmonic on Saturday night!
Back to bands