The Original Quarrymen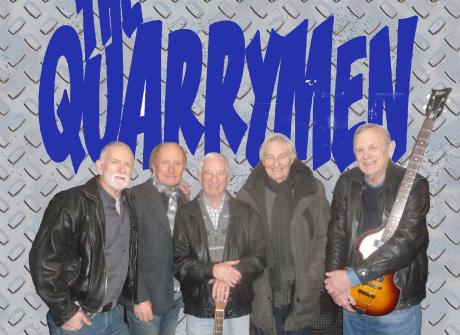 Description
John Lennon's Original Quarrymen – the band who were on stage with John Lennon on Saturday July 6th, 1957 (the day John met Paul McCartney) – got back together in 1997 to celebrate the most momentous meeting in pop music history.
The current Quarrymen line up includes three of those five original musicians, – Len Garry, former tea-chest bass player, now playing guitar and replacing Lennon as lead singer, – Rod Davis, from Quarry Bank School, at first the banjo player but now on guitar and Colin Hanton on drums, who played with John, Paul, George on the famous 1958 Percy Phillips recording session which produced "In Spite of All the Danger" and "That'll Be the Day" which was featured on the Beatles' "Anthology, Volume 1" CD set. On piano is John Duff Lowe who was invited by Paul McCartney to join the group in 1958 and who also played on the Percy Phillips session. They have recently acquired a new bass player in the shape of Chas Newby, who replaced Stuart Sutcliffe when the Beatles came back from Hamburg without him in 1960. An old friend of Pete Best, Chas appeared with the Beatles at the legendary Litherland Town Hall concert when the group took Liverpool by storm. Chas plays a left-handed Hofner violin bass.
The Quarrymen play the music which influenced the birth of the Beatles, the Skiffle and Rock 'n' Roll of the mid fifties – "Rock Island Line", "Mean Woman Blues", "Midnight Special", "Twenty Flight Rock", "Blue Suede Shoes". As well as their music, the Quarrymen share their Liverpool sense of humour in the stories and anecdotes with which they pepper their performance.
Since 1997 the Quarrymen have played all over Europe, in Canada, Japan, Cuba, and Russia, and have visited the USA many times. They have appeared on stage with Pete Seeger, Tom Paxton, Tony Sheridan and Laurence Juber and have made countless TV and radio appearances.  In 2013 they were featured in the Channel 4 documentary "Rock 'n' Roll Britannia". Beatle biographer, Hunter Davies, also wrote the story of the Quarrymen that was published in 2002.
The Quarrymen have released two CDs, "Get Back Together" in 1997 and "Songs We Remember" in 2004, and in 2009 Horst Fascher's Star Club-tv released a 60 minute DVD.
Official website: www.quarrymen.co.uk
Back to bands