The Hideaways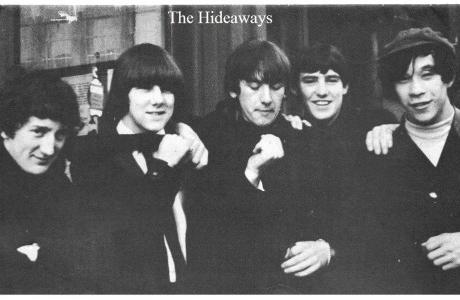 The Hideaways (Liverpool) plus special "Merseybeat" guests:
Beryl Marsden, Billy Kinsley (Liverpool Express), Joey Molland (Badfinger) and Brian "Saxophone" Jones (The Undertakers)
The Hideaways were a part of the 60s Merseybeat dynasty, and an integral part of the Cavern Club's history. They are also noted for their performance in the 60's Timex Watch TV ad campaign that can still be found online. The band includes Ozzie Yue (Lead Guitar /Vocals), also a well-known actor, Frankie Connor (Rhythm/Vocals) now the voice of BBC Radio Merseyside, Judd Lander (Harmonica/Vocals) who became a well-known London session musician performing on Spice Girls & Culture Club's worldwide No1 hits, along with performances on records from Paul McCartney, Annie Lennox, Beach Boys and a host of other major artists albums, John Donaldson – (percussion/drums) John now resides in the USA and a landowner. Sadly their original bass player John Shell was conscripted to the US military in the 60s and died in Vietnam. Their bass player/vocalist Chris Finley (performed with Herman Hermits & The Merseys) recently passed away, all performances are now dedicated to both Chris & John, with Chris's son Simon also guest starring on drums.
The Hideaways now hold the official World Record for over 500 Cavern performances, and still counting, and to this day still perform annually at the Cavern Club under the Monika of 'Liverpool Rocks' with all profits going to various charities.
The Hideaways & Special Guests will finish off our "Early Days at The Locarno" show, returning to one of the few remaining original Liverpool venues from the early 60s.
Back to bands