The Fab Twins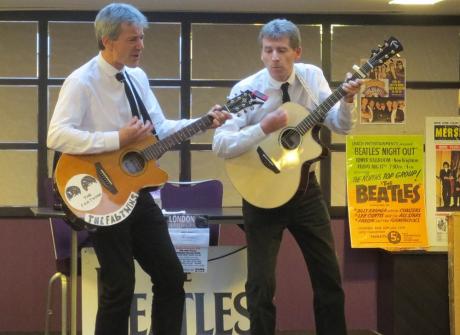 The Fab Twins (England)
An acoustic vocal harmony duo specialising in Beatles covers, as well as that of other harmony groups like the Everly Brothers and Simon and Garfunkel. Stace and Jon started singing together 30 years ago and people commented then how well their voices blended together, as if they were brothers. After many years of playing in separate bigger bands they decided four years ago to do some gigs as a duo and have not looked back. They are regularly asked if they are actually twins! Maybe the fact that they are not siblings explains why you are not likely to see them fall out like Noel and Liam, Ray and Dave, Don and Phil amongst others!
They are gigging more regularly due to requests for repeat bookings both in their local Bristol area and at fans and tribute events like Beatles Day in London and Beat at Tencreek sixties festival in Cornwall. Their appearance at Beatles Day in Mons in Belgium was hailed by the organisers as the only time they had heard "Honey Pie" on ukulele, kazoo and loud hailer, a departure from the normal pair of acoustic guitars!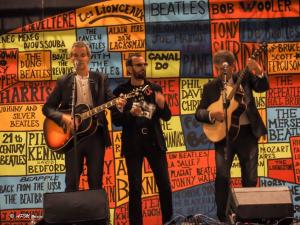 They are regular attendees in Liverpool at Beatleweek and recent years' highlights have included attracting the attention of and subsequently meeting Klaus Voorman whilst playing outside the Cavern, singing "Twenty Flight Rock" in the very spot at St Peter's Church Hall Woolton where John met Paul, and performing at the Casbah and the Jacaranda.
What you see and hear with the Fab Twins is two guys showing their deep love for the music of the greatest band of all time and creating a pleasing and unique harmonious take on it
Back to bands