The BlueBeetles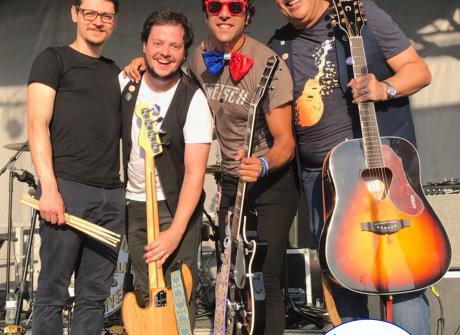 The BlueBeetles band have playing together since 2008 when Marcus Romariz joined Mario Vitor's band to play at Marcus' Birthday. This first collaboration was so well received that they decided to go ahead and form a band.
Since this time, their Friendship has the driving force, so that on stage, capturing that magic, they turn their performances into a real party.
In 2010, they made their first appearance at the world famous Cavern Club during International Beatleweek. Felipe Coe (Drums) was invited to travel and play with them. In 2013, Danilo Fiani assumed the lead guitar role and The BlueBeetles began a new era, a new way of playing, which has continued through to today…
The BlueBeetles are very proud to play for the 8th time in Liverpool at International Beatleweek. The BlueBeetles are:
Mario Vitor (bass, keyboard and Vocals)
Marcus Romariz (Rythim Guitar and Vocals)
Danilo Fiani (Lead Guitar and Vocals)
Felipe Coe (Drums and Vocals)
They'll be joined by a special guest guitarist this year, Claudio Vargas.
In May last year, they played at 'Abbey Road on the River' festival in the USA for the first time, a huge success, and returned for their second appearance in 2018. This year the band are excited to return to Alma De Cuba for special tribute to George Harrison.
They play with as much energy as you are likely to see and are really looking forward to getting back to where they started out…Liverpool!! Their motto, as always, is, 'A Beatle way of living!'
Back to bands