The Bertils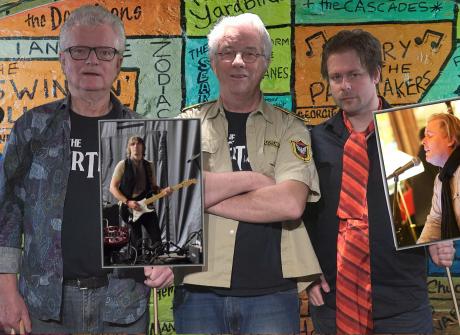 The Bertils are Back for the 7th time in a row!! Too good to be true, according to themselves!
The band's tour in Japan was a great success! Cavern Club Osaka, Johnny Angel's in Tokyo and Kyoto, Hit Studio in Tokyo (hosted by Japan's Macca, Tadaaki Naganuma), and cosy in The Cave in Kobe, were all covered in a hectic 10 days. What a great time to be sure and The Bertils are longing to go back!
This year, lead guitarist Doug managed to double book himself cruise troubadouring at the time of Beatleweek, contract 'n' stuff already signed. So he asked to be "off", approved by Band Leader Kent. But lo and behold, it did not take long before two other musicians requested to join the band for Beatleweek in Liverpool. Olle Bengtsson, the keyboardist and voice of Pepperland, a band who has been entertaining Beatleweek participants from the big stages for a long time, will join The Bertils this year. Fantastic! Olle has actually played with The Bertils before, so there will be no need for long hefty rehearsals, just some arguments about song choices, then go go go.
The other addition to the band during this year's Beatleweek is Phil Evans, from The Overtures, equally a great musician! Phil has also played with the Bertils occationally, on Beatle Day in Gothenburg and on other official and private events. And in Jimmie's absence, Phil has played Rickenbacker Bass. Phil is an all-eater when it comes to music, he will play anything, with utter excellence (as previous Beatleweekers definitely know). The main repertoire will be true to Beatle music, but they have threatened Bill Heckle that they MAY skip the switches (Smoke on The Water was a huge success in Japan, but The Bertils asked Club Owner for permission….).
They all look forward to meeting you all again!
Line-up for BW2018: Olle Strååt: Drums, Jimmie Rudolfsson: Bass, Kent Adeborn: Rythm Guitar, Phil Evans: Lead Guitar, Olle Bengtsson: Keyboard.
Back to bands