Tefeatles, The (Guatemala)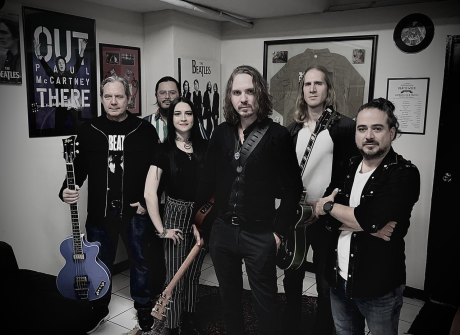 It all started when Carlos Tefel (also known by his stage name Chaz Rollazz) pitched the band idea to his uncle Jake Tefel whom had been playing guitar and bass for many years. Chaz and Jake recall, "When we realized that we had a family full of musicians, we decided to give it a go as a tribute band for the only music group that we could all relate to… The Beatles!"
Some friends of the band later joined up to complete the lineup. The band's drummer at the time, JP, came up with idea to mix the family name with The Beatles' band name, thus becoming The Tefeatles.
Initial gigs were only for private events such as weddings and birthdays. Later, The Tefeatles took it a bit further and recorded the first Guatemalan Beatles tribute album in 2010.
Soon the band started receiving requests to play gigs in clubs, charity events, as well as the International Beatles Day festival which has grown to be the largest Central American festival celebrated every year in Guatemala. But the band's ultimate dream was always to be the first Guatemalan group to play International Beatleweek in Liverpool. The year 2012 came and for the first time, a Guatemalan band had been chosen to play Beatleweek!
The 1st of May 2014 at the Estadio Nacional of Costa Rica, The Tefeatles had the greatest honor and privilege to take the stage and sing "Get Back" with a living Beatle… Sir Paul McCartney. For The Tefeatles, the experience was historic and unforgettable. Chaz speaks of the event saying, "It is something special that we carry in our heart to share with our dear Guatemalan public whenever we go on stage".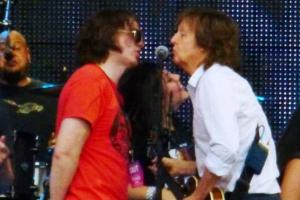 In 2015 and 2019, The Tefeatles were invited again to grace The Cavern Club stage. Then the COVID pandemic hit, and the band was grateful to play for the first ever virtual Beatleweek in 2020. This year in 2023, The Tefeatles are back for the fourth time with a new lineup.  Will be a Tefeatles band unlike anyone has ever heard before! We are taking along with us a varied set of not only Beatle tunes, but also some well known and obscure solo era songs.
Band Members:
Chaz: Lead Vocals
Paul: Keyboards and Backup Vocals
Jake: Bass
Pedro: Drums
Ted: Guitar
Renee: Vocals
Back to lineup