Strawberry Twins (Japan)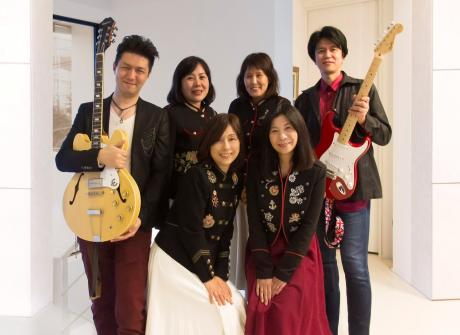 We welcome, from Japan – Strawberry Twins & Friends!
The band's guitarist, Kuru played International Beatleweek in 2014 with her band 'Red Berry', and in 2017 she started a new project called 'Strawberry Twins' with her close friend and drummer, Yumi. The quirky concept of this project has seen Kuru and Yumi inviting as many musicians as they can to join the duo at their gigs in Tokyo and Yokohama over the last two years.
For International Beatleweek 2019, the "twins" have selected four experienced musicians from these sessions to join them in Liverpool, hence the name – "Strawberry Twins and Friends". Confused…you will be! The band cannot wait to play for us this year. Yuji Harrison (!) appeared here in 2017 with The QuarryBEAT and besides Kuru who was here in 2014, the rest of the band all make their debuts this year. So, welcome back to Kuru and Yuji and a huge welcome to Yumi, Eri, Yoko and Beaver. 
Back to bands