Steve Holley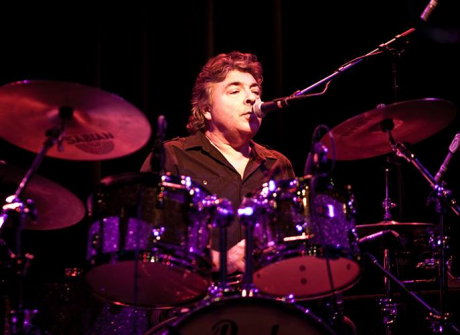 Drummer, Steve Holley, has provided some of the most solid and creative beats for Paul McCartney, Elton John, Joe Cocker, and Ian Hunter over the years. At the age of 16, Steve found himself touring the UK with the group Horse, and then the pioneering groups Amity, and G.T. Moore and the Reggae Guitars.
The formation of his own group Vapour Trails, led to a three year run with Kiki Dee after they became her backing band. From there he was invited by Elton John to play on the "A Single Man" album. Elton asked Steve to join his band to promote the album, but an "offer he couldn't refuse" came from Paul McCartney himself. Steve became the drummer for Wings (on the classic "Back To The Egg" LP); touring and recording with the band until their breakup in 1981.
Since then Steve has performed and recorded with a veritable "who's who" of music; Joe Cocker, Julian Lennon, Dar Williams, Ian Hunter, Chuck Berry, Martin Briley, Jules Shear, Popa Chubby, Seiko Matsuda, Denny Laine, Phoebe Snow, Gary Brooker, Ian McDonald, G.E. Smith, Warren Haynes, Tommy Shaw, Joe Louis Walker, Junior Brown, Jon Paris, Sean Fleming, and many others. In 2003 he released his first solo album 'The Reluctant Dog.'
Steve will be performing as part of our special Lennon & McCartney show at the Philharmonic on Saturday, but Steve loves getting up to drum with other bands during the festival. So this year we'll be playing a special game of "Where's Holley?". If you see Steve drumming at any point during the festival take a picture of the moment and share it on Facebook, Twitter or Instagram using #WheresHolley for a chance to win a very special Steve Holley prize!
Back to bands