Steps, The (Argentina)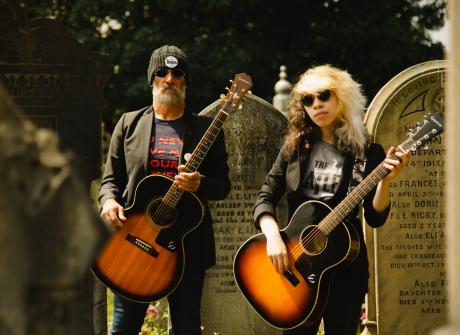 Martina & Paul aka "The Steps," are a male/female duo that have been playing together for four years and bring together a package full of love and respect for the Fab Four tunes. Having lived in Liverpool for a number of years now, breathing the Merseyside atmosphere, they specialise in covering The Beatles.
On acoustic guitar is Paul Kiddle (Argentinean-British), who covers a wide range of 60s and 70s classics among other timeless tunes. Paul will be a familiar face to anyone who has spent time in Liverpool, as he is known all over the world for his busking here on Mathew Street, and more recently, down at the Pier Head next to the Beatles statues. He's made many great friends through music and previous festivals.
Martina Calderoni, on electric and acoustic guitar (Argentinean-Italian) is a young musician who likes the 'good stuff 'from the 50s, 60s and beyond and is studying music performance at City of Liverpool College and this year will be contributing vocals to the group!
Two generations together, they bring a passion and love for the music, dedicated to staying faithful to the originals whilst putting their own unique spin on it. A refreshing stage act covering rock 'n' roll tunes, pop ballads and psychedelic sounds paying heartfelt tribute to the biggest bands of all time!
Back to lineup