Diego Souto & The Revolvers (Argentina)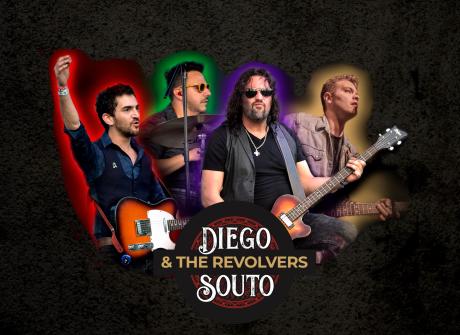 Diego Souto and The Revolvers are not your usual Beatles cover band. They have heavier influences, so their approach to The Beatles' catalogue is very rocky. Add a power house stage presence to the mix, and you've Got Diego Souto and The Revolvers!
They span 60 years of Beatles music playing deep tracks, solo years and hits as well. When the mood is right (and it usually is), you could also hear a song or two from a few other artists.
They have been a regular act at Semana Beatle de Latinoamérica (Argentina) since 2009. The band first played International Beatle Week in 2018 and from the moment they played their last chord, they were looking forward to coming back. A rock and roll party every night is guaranteed for all!
In 2019 Diego Souto and The Revolvers Performed in the USA at The Beatles Music Fest in Hammond, Indiana, being the First Latin American band ever to perform at this huge Festival, receiving rave reviews. The band also Performed 7 gigs in 4 days at International Niteroi Beatle Week in Brazil being the only Argentinian band to perform there.
In 2020 Diego becomes an Official Hofner Guitars Endorser. During that year they appeared in multiple Virtual Beatles Festivals around the Globe including Virtually International Beatle Week. In 2021 Diego was invited back to Brazil to perform at Niteroi Beatle Week 2022 release party. They ́re currently touring Argentina and South America with their "Why don't we do it in the Road Tour 2022".
Back to lineup