Sonido Club (Brazil)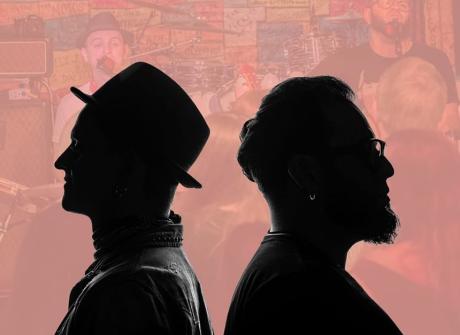 Sonido Club are from Florianópolis in Brazil and made their debut at the festival in 2017, gaining many fans and plaudits along the way. They were subsequently invited to perform at two festivals in Brazil later that year, BH Beatle Week in Belo Horizonte, and the Sao Chico Beatle Weekend alongside the Cavern Club Beatles and Julia Baird and were invited back in 2019.
It hasn't been possible for them to return since then with everything that has happened around the world in the last few years but we caught up with them in Niteroi last year at Beatle Week Brasil and wasted no time in inviting them back to Liverpool for 2023.
This fantastic duo, consisting of Anderson Tombini and Jerônimo Jr., formed back in 2008, driven by their mutual passion for rock, folk and pop culture. They have played hundreds of gigs in pubs and clubs in Brazil since then and have performed as opening act for Deep Purple and Roger Hodgson (formerly of Supertramp). Anderson is the singer and plays a drum kit that includes Latin percussion instruments such as the cajon and the pandeiro and Jeronimo plays the acoustic, electric and resonator guitar, as well as playing bass lines on a midi foot pedal, which allows the duo to sound as big as a band with four members…and they do! 
 Make sure you catch Sonido Club this week as they return due to public demand!  
Back to lineup