Sgt Pepper (Brazil)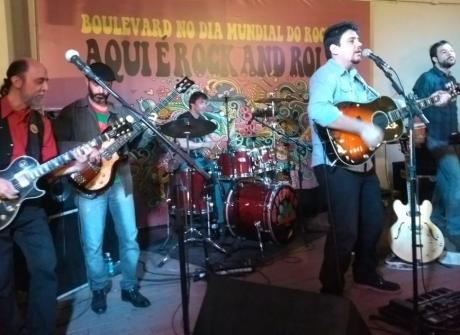 Since 1990, Sgt. Pepper have been dedicated to researching and interpreting the work of the most important group in history – The Beatles.
The talent of these "Mineiros" reverberated throughout Brazil, having appeared in the biggest and most watched TV programs in Brazil.
First invited to Liverpool in 1993, the band finally played the following year, becoming the first Latin American band to perform at Beatleweek.
In 1996, they released their first CD, "Come and Get It", a meticulous piece of work that gathered thirteen unpublished songs by Lennon/McCartney. The British were impressed by the quality of the arrangements on the record, receiving praise from Paul McCartney himself in a message to the band:
"Thank you for the kind comments and it seems to me that you are doing very well. You sound very natural. The album is "clean", and in my opinion it reflects a meticulous reconstruction of the past."

The band also had the opportunity to record two tracks in Abbey Road Studios as part of The Cavern's Cavern Records project, Why Don't We Do It In Abbey Road? Another highlight was travelling to International Pop overthrow festival in LA to represent The Beatles' massive contribution to pop. Over the years, the band's line-up has changed but same spirit and dedication to the music has remained intact.
Marcos Gauguin (Guitar, Vocals and Music Production – Since the beginning), Cristhian Magalhaes (Contrabass – First performance with Sgt Pepper in September 1996), Alexandre Carvalho (Guitar / Acoustic Guitar and Vocal – auditions since 2002), Roney Nascimento vocal – Joker a familiar voice) and Marcelo Carrato (Drums and Executive Production from the beginning to the present day).
Back to bands