Sgt Pepper (Brazil)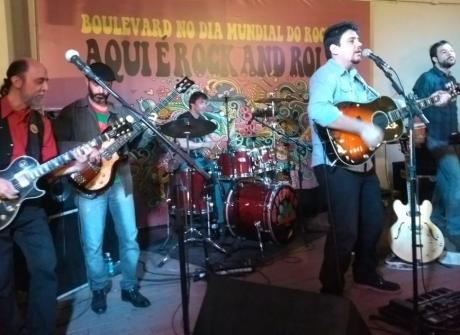 Marcos Gauguin (Guitar, Vocals and Music Production – Since the beginning), Cristhian Magalhaes (Contrabass – First performance with Sgt Pepper in September 1996), Alexandre Carvalho (Guitar / Acoustic Guitar and Vocal – auditions since 2002), Roney Nascimento vocal – Joker a familiar voice) and Marcelo Carrato (Drums and Executive Production from the beginning to the present day).
Since 1990, Banda Sgt. Pepper is dedicated to researching and interpreting the work of the most important international pop group in history – The Beatles.
The talent of these "Mineiros" reverberated throughout Brazil, having appeared in the biggest and most watched TV programs, where these media were some of their main showcases.
Banda Sgt Pepper was first invited in 1993 to the Festival in Lierpool, but they first went in 1994, becoming the first Latin American band to perform at the festival. Already in its first year, it was acclaimed by the production of the festival as an attraction of great prominence.
In 1996, the band released their first CD, "Come And Get It", a meticulous piece of work that gathered thirteen unpublished songs by the duo Lennon and McCartney. The British were impressed by the quality of the arrangements on the record, receiving praise from Paul McCartney himself in a message to the band ("Thank you for the kind comments and it seems to me that you are doing very well. You sound very natural. The album is "clean", and in my opinion it reflects a meticulous reconstruction of the past"). In June of 1999 the band released its second album "Afonso Pena with Abbey Road" that completes the re-reading of the work not officially released by The Beatles.
At the famous Abbey Road Studios, where The Beatles recorded 95% of their work and named the band's latest album, the Brazilians recorded two tracks for Cavern Records.
The band also participated in the International Pop Overthrow Festival in Los Angeles. Because it is an event that is committed to preserve pop music, it couldn't be different, Banda Sgt. Pepper was chosen by the organizers to represent the music of The Beatles. The sound of Minas that comes from The Beatles is the result of a passion: for the life and work of four hairy people that changed the world. Passion which translates into hard work and rigorous research to bring back all the beauty and radicality of a revolution called The Beatles.
Back to bands