Rolando Giambelli & Freinds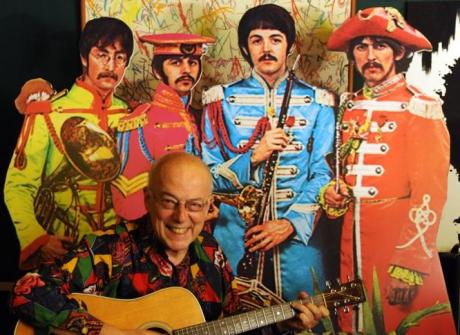 Rolando Giambelli & Friends for Sgt. Pepper's 50th!
On a magical November night in 1963, Rolando discovered The Beatles, just listening to the song "Please Please Me" from a Jukebox…
Since then The Beatles have become the soundtrack of his life, which he has dedicated to spreading the word about the greatest band of all time.
In 1992, after helping to coordinate Ringo's tour of Italy, Rolando met Sir George Martin in London and then founded the Beatle People Association of Italy "Beatlesiani D'Italia Associati" that he dedicated to the great Beatles' producer, in order to further promote Beatlemania in Italy. 
In 1993 he finally reached the magical Beatles City on the River Mersey and became dear friends with Cavern City Tours, attending all the following Beatleweeks, sometimes with his son Alex, or his band BeaTops, but also with many others… 
Ever since, Rolando has visited Liverpool regularly to meet friends, play and relive again the fantastic atmosphere surrounding Mathew Street, where the Cavern Club is place, "Where it all began!"
These are a few of the reasons that inspire Rolando to continue to promote by all means (press, radio and TV) the City of Liverpool and The Beatles but, above all, to bring with him from Italy as many friends (fan, collectors and musicians) to enjoy this great city.
Rolando will once again perform in Liverpool, and for this Summer of Love, in a few different line-ups, as some "little" acoustic bands, with Marco Zappa from Switzerland, and with Stefano "Stecca" Bertolani, Filippo Caretti and the pianist Fabrizio Grecchi who came with him from Italy.
Thank you Liverpool!
Back to bands