Ram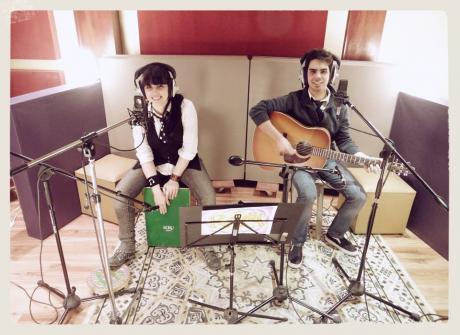 Ram (Argentina)
Ram is an acoustic duet from Mar del Plata, Argentina, who have playing since October 2013. It consists of Anabella Ragno (voice, keyboard and percussion) and Diego Guerriero (voice, guitar and ukulele). They have experience playing in Beatle bands going back to 2009, and they're currently studying to be music teachers in a teacher training institute for popular music.
They have played many concerts, radio shows and some tv shows in their city and co-created in 2015 a Beatle Play called "The Beatles, como lo hicieron?" (The Beatles, how did they do it?), in which they also performed and played with other musicians. In 2016, while on their honeymoon (Yes, they're actually married), they had the opportunity to play a song at The Cavern Club in Liverpool, thanks to Jimmy Coburn (Cavern Resident Artist and "John" in The Cavern Club Beatles) who invited them to the stage. Since 2017 they have been working on the music for another play called "Divorciadas, Evangelicas y Vegetarianas" (Divorced, evangelist, and Vegetarian women) from the Venezuelan author Gustavo Ott, that includes Beatles songs performed live. The play had several nominations to the "Estrella de Mar" award, an important award in show business during the summer season in Mar del Plata, and it was a finalist in the regional Independent Theatre Festival the same year.
Recently the Duo have been performing with a friend, Javier Llorens Prado, providing Bass and Vocals, who will join them in Liverpool for some gigs as a Trio. He has more than 15 years of Beatles bass playing experience!
Back to bands