Pring, Gavin (Liverpool)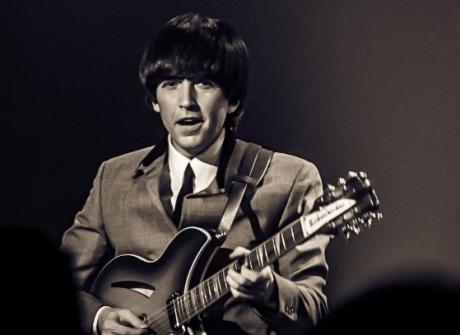 Gavin Pring has been performing as George Harrison in Beatle tribute acts now for over 15 years, hailing from the same town as John, Paul, George and Ringo, Gavin also performed weekly at the Cavern Club in Matthew Street in his home town of Liverpool, England.
When he arrived in the U.S he performed alongside Paul Lynch, Bob Graham and Jim Martin in Chicago's 'British Export' and had great success touring around the Midwest and playing in the early years of Abbey Road on the River when it was based in Cleveland.
After being approached by 'The Fab Four', Gavin relocated to Las Vegas and performed 6 nights a week at the Planet Hollywood on the Las Vegas strip for 4 years.
During that time he was involved in Ellen DeGeneres' "Really Big Show" to a sold out crowd at the "the colosseum" at Ceasars Palace and also performed for other LA celebrities such as Kate Beckinsale, Tim Curry and Adam Sandler.
Gavin and "The Fab Four" were handpicked by Robert Zemeckis to star as the Beatles in the motion capture remake of the "Yellow Submarine", they were commissioned to cover the 'performance' segments of the movie.
Since Vegas, Gavin and the Fab Four are the only Beatles tribute act in existence to earn 2 Telly awards and an Emmy for their PBS special filmed at Pechanga, Temecula.
Gavin was handpicked again, by Cirque De Soliel to provide motion capture as George Harrison at their 10 year anniversary of LOVE which remains the longest running Beatle related show on the Las Vegas strip.
If you like George Harrison you will appreciate Gavin's interpretation of the Spiritual Quiet One, as even "Sir Paul McCartney" himself, once quipped "You look a little bit like George!", to which Gavin responded "You look a little bit like Paul!".
You can see Gavin performing this weekend both with The Fab Four and doing a special tribute to George Harrison, as we celebrate, what would've been, his 80th Birthday.
Back to lineup