Prellies, The (England)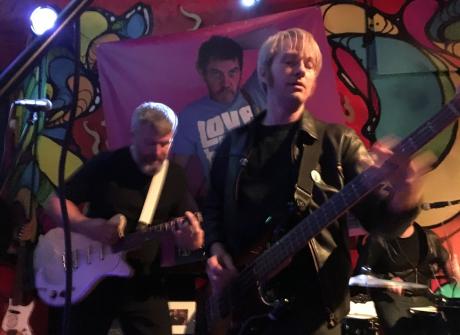 The Prellies story starts way back in 1998, when Trev Townsend met Gaz Evans at a crappy IT job in Birmingham. Bonding over a shared love of the Beatles, and using Trev's website building skills, the pair set up Beatleworld.co.uk, the silliest Beatles website on that new-fangled internet thingy.
They made lots of Beatles loving chums and set up the first online fan club for Pete Best. Possibly because of this, when the call went out for a group to play the reopening of the Best family's famous Casbah Club, in the Summer of 2002, Trev suggested that his band, The Prellies, play. At that time, there wasn't actually a band, but Trev quickly assembled a group of Birmingham's least competent musicians. 
What Trev and Gaz wanted was to recreate the sound and songs of the Beatles 'Star Club' tapes and the best parts of the 'Backbeat' film, where the band was playing "Long Tall Sally" and jumping around like loons, as well as to play the same venues that the Beatles played. But not bother playing any music actually written by the Beatles, as there seemed to be enough groups doing that!
The plan worked well, and even though they were disorganised, unprofessional and smelly, the group wangled gigs at the Beatles Story Museum, The Jacaranda, and The Cavern, where they accidently dissed 80's Popstar, Tiffany, and Sir William Heckle proclaimed that they could play Beatleweek 2003, because he liked the band name (Thanks Bill!).
The Prellies played every Beatleweek from 2003 to 2008 (at which point Chris, the drummer, was deported to Australia for stealing a loaf of bread), as well as gigs in The Isle of Man, France, Belgium, Spain, Butlins, and Belarus. Channel 5 filmed them shaking their legs in the Cavern for 'The Beatles Biggest Secrets' and they recorded a soundtrack for a BBC4 documentary about Stuart Sutcliffe. Chris escaped the penal colony in 2010 and the Prellies played Beatleweek again, before he was caught and sent back to break rocks again in Melbourne.
After a few years sitting on their arses, the Prellies started playing again with the legendary Stevie P. on drum duties. The group played the Jacaranda, The Cavern, and ran several Peaky Blinders-themed club nights in Birmingham. Their last show was at St. Peter's Church Hall, on the 60th anniversary of the day John Lennon met Paul McCartney.
Cruelly, Trev died suddenly on 1st October 2018. Carrying on The Prellies without him has been hard to contemplate, but it also seems like the best way of honouring his memory. We hope we can continue to play chaotic, fast, sweaty beat music with the same spirit, energy and passion as Trev had … mach schau!!
Back to lineup