Peakles, The (Portugal)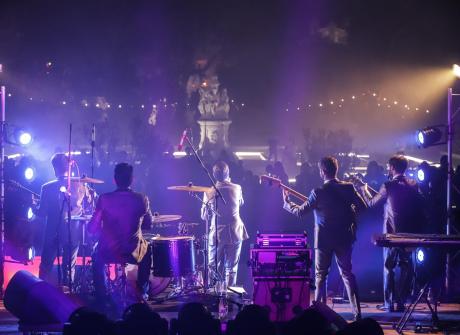 The Peakes are a Beatles tribute band from Almada, Portugal who formed in 2013 due to a mutual love of The Beatles' music and style. They made their debut at International Beatleweek in 2014, and returned in 2018!
The band deliberately decided not to dress up and try to pretend to be The Beatles, but chose to perform the music the way that felt natural to them, reflecting their own joy in recreating these timeless tunes.
After touring throughout Portugal in bars, clubs and private events, The Peakles were offered the chance to become the resident band at the Lisbon Casino, the first Portuguese tribute band with such an honour, and a second residency at the Cascais Casino soon followed, playing regularly and leading to more attention and coverage on TV and at some of the biggest festivals and events around.
They are looking forward to coming back to Liverpool for more fun with their energetic celebration of The Beatles.

The Peakles are: Nelson Mendes (Vocals), André Conceição (Drums), Ricardo Monteiro (Keyboards, Acoustic Guitar), Luis Felix (Bass) and João Parreira (Guitar). 
Back to lineup