Parry, Jonny (England)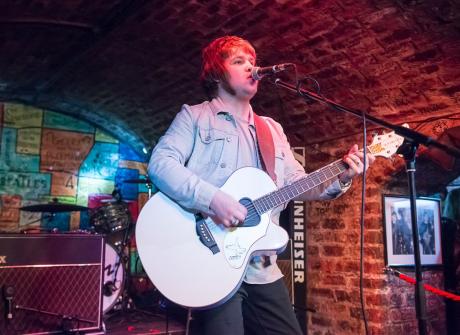 Jonny (middle name William) is fast becoming an adopted scouser, having moved here a few years ago
from the north-east of England
to pursue his dream of becoming a member of The Cavern's elite group ( they'll eat anything), Johnny Storm & The T Cups.
This dream came true when he stood in at a recent "secret" gig at the Cavern, standing in for 'Clarkie T Cup" who had illusions of grandeur, daring to perform with another band – he'll be back!
Away from his work as "Wee Willie T Cup", Jonny is one of the most popular resident artists at the Cavern Club and is also one of the hosts, along with Neil "never be a T Cup" B, of The Cave Dwellers, our Saturday night show where we invite musical guests from all over the world to perform on our famous stage. Jonny also plays in the Hard Day's Night Hotel twice a week as part of their "Cavern presents.." nights.
Last month he was at the Eisteddfod International Music Festival in Llangollen, hosting our pop-up Cavern stage as well as performing his acoustic show. Look out for Jonny over the festival as he will pop up everywhere in his various roles as compere, musician, style guru and T Cup (possibly…nothing's confirmed).  
Back to bands