Oxford Beatles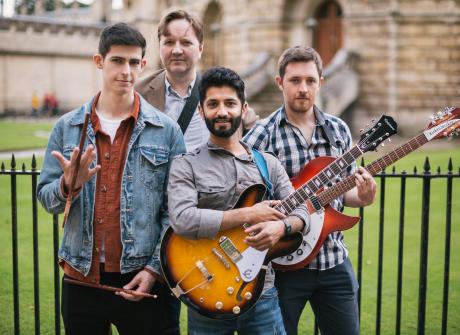 The Oxford Beatles (England)
The Oxford Beatles are a Beatles cover band, performing together since 2014.
Their repertoire spans the entire Beatles catalogue and they pride themselves on producing totally faithful renditions, both instrumentally and vocally. The band have focussed entirely on reproducing the on-stage energy, vocal harmonies and sound of The Beatles, but with an original twist.
In November 2017 they performed their Sgt Pepper Show over 5 consecutive nights in Oxford. The sell-out show saw a complete live performance of the album, with a 12-piece orchestra and Indian classical musicians. The show has received rave reviews and exceptional feedback from audiences.
Andrew Bell from Daily Info: "The band gave us a wonderful, immersive experience, a journey through a sonic soundscape."
Audience member Russell Brimelow: "As a spectator and a musician, just wanted to say this was a superb production and the best show I have seen all year. You really did it justice. Bravo."
Back to bands