Overtures, The (England)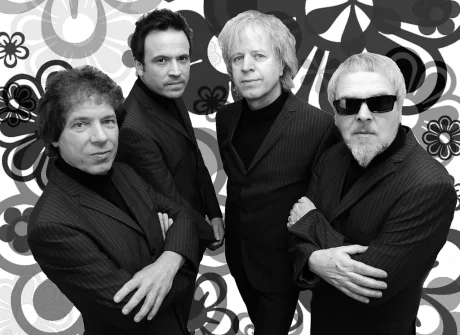 The Overtures are the UK's finest Sixties tribute act.
Hertfordshire-based The Overtures were formed in 1989, and their line-up consists of founders Den Pugsley (bass/lead vocals) and Steve Phypers (drums/vocals), plus Jamie Cook (guitar/lead vocals) and Chris Skornia (keyboards/vocals).
They are firm favourites on the private party/corporate event circuit, performing for the likes of Sir Paul McCartney, Elvis Costello and Diane Krall, Chris Difford of Squeeze, Kenney Jones (ex of The Who and The Small Faces) and many others, too confidential to mention.
In November 2008, Sir Elton invited them to play at a party to celebrate Lulu's 60th Birthday. Many of the musical legends present were coaxed on stage to perform with the band.  Two weeks later, Elton John asked the band to support him at his New Year's Eve show at London's O2 Arena! The band performed to 17,000 people in a show that included Will Young and X-Factor winner, Alexandra Burke.
In 2009 they played three sell-out shows in Las Vegas showcasing their theatre production, 'The Bootleg 60s Sight and Sound Show" at the Suncoast Casino, returning that September for four more at The Orleans Casino to standing ovations.
In 2010, The Overtures appeared on live television in Germany, where they provided backing for Robin Gibb, Peter Noone and Chubby Checker, and then in Majorca, performing with the American music legend, Lionel Richie, seen live, by countless millions.
To celebrate the Cavern's 60th anniversary, The Overtures performed two packed-out shows at Liverpool's Philharmonic on 15th and 16th January 2017, joined by special guests, including former Overtures member and Cavern Resident, Tony Skeggs, chronicling and celebrating the musical history of The Cavern Club, from its early Jazz and Blues beginnings, its Golden Era in the 1960s and beyond!
Back to lineup