NUBE 9 (ARGENTINA)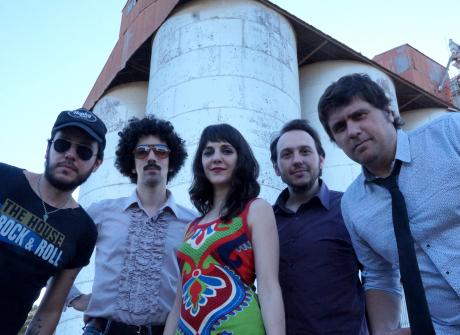 NUMBER 9, NUMBER 9, NUMBER9…
No, that's not what Nube 9 means in Spanish, as was wrongly assumed all those years ago when they first played Beatleweek, but it will be these Hall of Famers' NINTH appearance at our festival!
As most of us now know, Nube 9 means Cloud 9 in their native tongue (after George's album, of course), and the reference is obvious to anybody who has ever seen this band, who are without doubt a festival favourite. As well as their fabulous Beatles repertoire, the band have become a go-to for All Things George and have dedicated many shows to the "Quiet Beatle" including full album shows, Traveling Wilburys sets and a fantastic headlining tribute to George at The Philharmonic in 2013.
Formed in 2001, the band made their debut at the first Latin American Beatle Week at the Cavern Club in Buenos Aires, Argentina. That same year they dedicated a show to performing all of George's Beatles era songs, in his memory, and after winning the Beatle Week Award for Best Original Band, they set themselves the ambitious task of playing the "White Album" live, which was no mean feat!
In 2006 they were invited by Cavern director, Dave Jones, to make their first appearance in Liverpool and returned the following year due to popular demand. After a year out, they made three consecutive visits, culminating in receiving the Hall of Fame award in 2011, becoming the first Argentinian band to do so.
The band have had some unforgettable moments at the festival, like the "Peace, Love and Understanding Concert" at the Anglican Cathedral, as well as teaming up with special guests like Mark Hudson, Alan White, Joey Molland and "Leg" Larry Smith and multiple shows at the Mathew Street Festival, including Liverpool's 800th birthday celebration!
They've toured all over the world (headlining Abbey Road on the River fest in Louisville, Kentucky) and have opened for Ringo Star in Buenos Aires, shared a stage with The Beach Boys, backed Pete Best and opened for Brian Ray (Macca's guitar and bass player). In fact, Lucrecia (Nube 9's guitar player) is a member of The Bayonets, alongside Brian.
It's been 3 years since we last welcomed them to Liverpool so make sure you catch them doing their excellent tributes to The Beatles and beyond, including some special albums from 1970 in full.
Back to lineup