*Neil Innes* (1944-2019)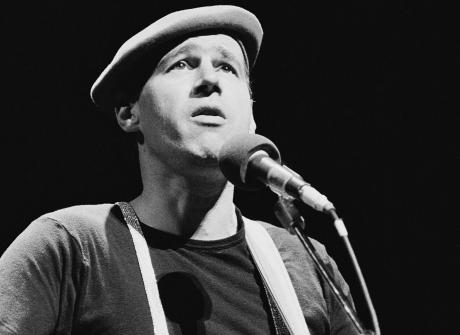 We are devastated that our dear friend, Neil Innes, sadly passed away on 29th December 2019.
"The Urban Spaceman" was scheduled to perform at International Beatleweek in 2020.
Instead, we will be paying tribute to him, through his wonderful music… More details to be announced later in the year.
Neil was loved not only for his genius songwriting, talented musicianship and comedic way with words but also for his warm personality and joie de vivre, generous with his fans and always entertaining on and off the stage.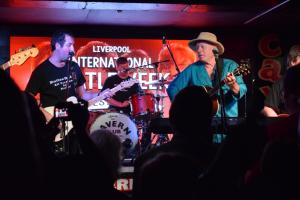 Neil made his first appearance at our festival nearly 30 years ago at the 1990 Beatles Convention playing at a special Rutles night, backed by Beatleweek legends Ringer, and subsequently performing many times in Liverpool at International Beatleweek and The Cavern Club, which forged a life-long friendship. He was part of the family and was presented with the International Beatleweek Hall of Fame Award in 2017 and given a brick in our Wall of Fame on Mathew Street.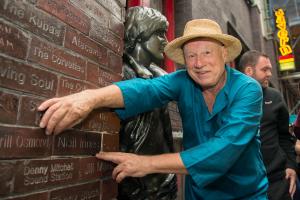 Neil returned in 1993 to reprise his Rutles show with Ringer, as well as delivering a separate one-man-show of his other original songs and was back again in 1998 for his Bootleg Rutles Where It All Ended show. In 2000 he brought his then touring show Innes Own Words and in 2005 reunited with co-Rutle Barry Wom (John Halsey) and the rest of the Rutles touring band for their "Farewell Tour."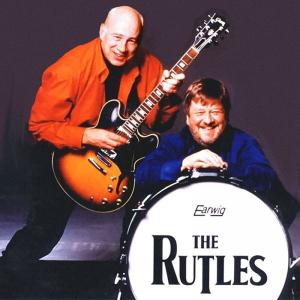 Tongue-in-cheek or not, that Farewell Tour has lasted 13 years with "Ron and Barry" making more recent appearances at the festival in 2013 and gigged in The Cavern Club as recently as May 2019. Neil also gave us two memorable shows at the "Bombed Out Church" (St Luke's) in 2015 and another two fantastic concerts in the Live Lounge in 2017, with McDonald's Farm completing that year's lineup of The Rutles.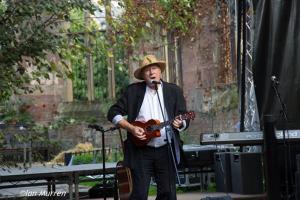 Neil's shows at International Beatleweek were always a highlight, filled with a mix of Bonzo and Python era favourites, Rutles classics, as well as nods to his other work, old and new, always full of his intelligent wit, social commentary, silly and humorous antics, various iconic hats and memories that will last, not only a lunchtime, but a lifetime.
———————————————————————————————————-
Originally making his way in the music industry with the Bonzo Dog Doo-Dah Band, they appeared in The Beatles' 1967 film, Magical Mystery Tour, performing Death Cab For Cutie, penned by Innes with lead singer Vivian Stanshall, shaping the song into an Elvis-esque parody.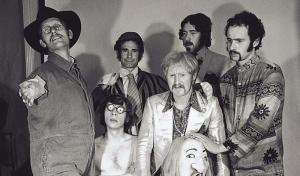 The following year, "The Bonzo Dog Band" released their biggest hit, I'm The Urban Spaceman, which peaked at #5, was produced by Paul McCartney under the pseudonym Apollo C. Vermouth and won Neil an Ivor Novello Award in 1968.
In the 1970s Innes worked with The Scaffold members Mike McGear, John Gorman and Roger McGough as well as future "Rutle" Ollie Halsall in the band GRIMMS, releasing two LPs, as well as getting involved with Monty Python, virtually becoming the "Seventh Python" contributing music for their albums, performing original songs during their stage shows as well as writing songs and sketches for their TV series and the "Holy Grail" film. He also had a small part in " The Life of Brian" funded bye George Harrison's HandMade Films; you can even hear Neil's whistling on the famous version of Always Look on the Bright Side of Life.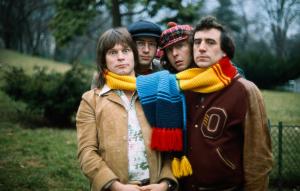 It was Neil's next major project that endeared him to Beatles fans for evermore when he teamed up with Eric Idle on his new pythonesque sketch show, Rutland Weekend Televesion, which spawned a legend that lasted a lunchtime, The Rutles!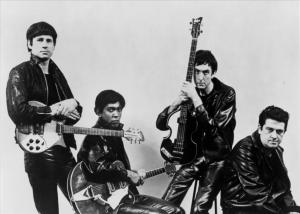 An affectionate pastiche of The Beatles, the mockumentary All You Need Is Cash spoofed The Beatles' career and starred Neil Innes as the sardonic Ron Nasty, his hilarious take on Lennon, with Eric Idle as the happy-go-lucky bassist Dirk McQuickly, The Flames' Ricky Fataar as Stig O'Hara and John Halsey on drums as Barry Wom. The film had many cameo appearances including Mick Jagger (and Bianca), Ronnie Wood, Michael Palin, Saturday Night Live stars Bill Murray, Dan Aykroyd and John Belushi, Paul Simon and the ultimate seal of approval, George Harrison.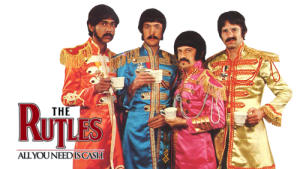 The film was such a fun and loveable send-up of The Beatles that it appealed to die hard Beatles fans, who got all the inside jokes and references. It was irreverent without being disrespectful and it was (and still is) sidesplittingly funny. Further blurring the lines between the pre-fab four and their Liverpudlian counterparts was the film's soundtrack.
The soundtrack consisted of 20 original Neil Innes songs in the style of The Beatles from their early Hamburg and Cavern days to their final rooftop concert and everything in between (Beatlemania, Psychedelia and Indian influences). The songs were so well written and recorded (along with Halsey, Fataar and Ollie Hallsal) that the owners of The Beatles' song catalogue at the time, ATV, took Innes to court alleging copyright infringement. Neil had to swear under oath that he had not listened to the songs at all while composing the Rutles' songs, but had created them completely originally based on what he remembered various Beatles songs sounding like at different times.
The Rutles songs are cherished by Beatles fans, almost as an extra Beatles album, which was added to in 1996 when Neil Innes reunited with Barry and Stig to produce a further 16  songs, released as Archeology, in response to The Beatles' recent Anthology series.
Neil also had his own TV show, The Innes Book of Records, which lasted three series and went on to work in Children's television, composing music for The Raggy Dolls, The Riddlers, Tumbledown Farm and Puddle Lane, in which he also acted as the Magician.
Back to lineup