McDonald's Farm (Scotland)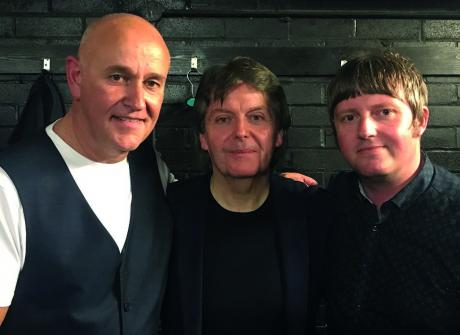 It has always been a pleasure and a privilege playing every August in Liverpool at International Beatleweek. This will be the 33rd year for Steve and Grant, with Liam now well into double figures, and we look forward to meeting up with all of our friends from home and abroad.

For the past two and a half years we have been one of the resident bands at the Cavern Club, a great honour for any musician. Lots of thanks to everyone at Cavern City Tours for all their hard work. From Steve, Grant, Liam and special guest Willie (on keys. Have a great time and let's party!
Steve, Grant and Liam, formerly of Beatle bands Ringer and Tripper, have shared stages with some amazing artists over the years: Denny Laine, Steve Holley, Laurence Juber, Neil Innes, Pete Best, Mark Hudson, Billy Kinsley, Chris Sharrock, Chris Hall, and Joey Molland. Since becoming one of The Cavern's resident bands, McDonald's Farm have been making the long journey down from Dundee every other weekend to entertain crowds in the Club and Pub!
Steve and Grant have been part of the Beatleweek furniture for more than three decades and have both been inducted into the International Beatleweek Hall of Fame. Having three fantastic singers, the band perform energetic and fun-filled renditions of Beatles, solo material and other classics from the good old days. It wouldn't be Beatleweek with them!
Back to bands