Los Pasantes (Spain)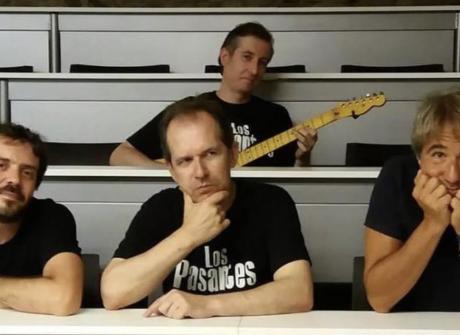 Los Pasantes are a Spanish band from Barcelona who first played International Beatleweek in 2008 but haven't been back since 2013.
Formed in 1996, the band have played hundreds of shows and have made many TV appearances. One of their most memorable gigs was at the Plaza de Las Ventas (Madrid) where The Beatles played in 1965. They've also played with original Beatles drummer, Pete Best, at the Barcelona Beatle Weekend in 2015 and Len Garry from The Quarrymen in 2016 as winners of the Radio Flash-Back "Straight to Heaven" contest.
As well as performing around Spain and several trips to Liverpool, they've also played in France and Germany. The band cover all eras of The Beatles and have recorded three albums, paying tribute to John, Paul, George and Ringo.
Luis Barbero: Guitar and Vocals
Gerard Huguet: Bass and Vocals
Juanito Linares: Drums and Vocals
Carles Fonollosa: Guitar and Vocals
And.. Eduard "Brian Epstein" Lluch
As the famous song goes… "A splendid time is guaranteed for all!"
Back to lineup