Los Escarabajos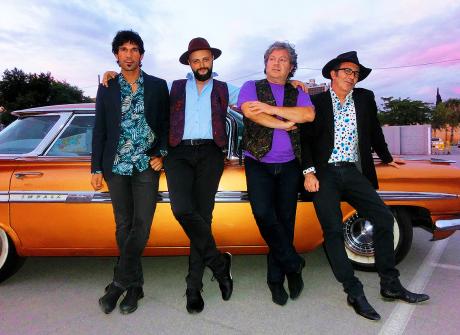 Los Escarabajos (Spain)
Created in 1993 by Sevillian writer, producer, musician and Beatles historian, Enrique Sánchez, the Los Escarabajos project has over its lifetime drawn on the talents of some 27 national and international musicians throughout the course of 22 large scale productions and 5 main line-up changes. Sánchez, for his part, is a widely regarded authority on all things Beatle, having published two books about the boys from Liverpool, presented various public exhibitions and lectures, as well as having been interviewed by the media in both Spain and England on several occasions.
However, Los Escarabajos is a lot more than just a great Beatles tribute act: It's an on-going artistic project whose particular homage to the Fab Four, aside from live performance, encompasses a range of activities more akin to that of a ministry of culture or musicology research department. In addition to playing at major venues at home and elsewhere (Portugal, France and England), Los Escarabajos have toured dozens of elementary schools in Spain helping students appreciate The Beatles legacy while also learning English. They have also explored the reinterpretation of various Beatles works based on alternate studio outtakes and offered completed versions of certain John Lennon songs left unfinished by him at the time of his death.
Los Escarabajos were also fortunate enough to inaugurate a street dedicated to The Beatles in Almería, Spain, where Lennon wrote "Strawberry Fields Forever" in 1966. They have shared the bill or performed with various musicians who have themselves at one time played with The Beatles (such as Pete Best and Rod Davis), and they have recorded a live album at The Cavern Club in Liverpool.
Back to bands