Les Sauterelles (Switzerland)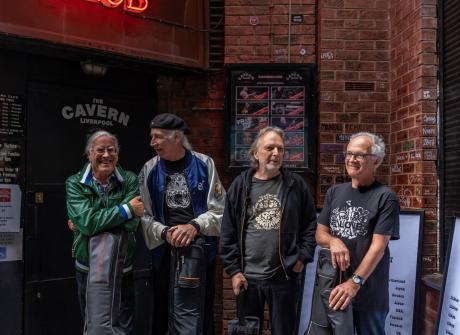 This Band was founded in 1962. Soon they became the most popular Swiss Beat Band in the Sixties. In the hot summer of 68, their single "Heavenly Club" was #1 for 6 weeks in the Swiss Charts!  "Heavenly Club" was issued  in many European Countries, in the US and Japan.
Les Sauterelles have appeared as a supporting act for the Rolling Stones, Cliff Richard and the Shadows, The Small Faces and they toured together with the Kinks. They performed in the famous Star Club in Hamburg and used to play in all the big Clubs in Switzerland. More than 350 concerts during the year was quite normal…
Today, Les Sauterelles are still on stage. After a temporary disbandment in 1970, the band was reunited again in 1993. Freddy Mangili and Peter Glanzmann joined their inseparable friends Toni Vescoli and Düde Dürst.
With more than 30 shows a year, they are still very successfully touring in Switzerland. Not only the older fans who enjoy their music and performance but younger generations. Now, as then, Les Sauterelles see themselves as a 'Band On The Run', taking on songs considered to be unplayable and kicking the oldies' bowling evening into the long grass. The current formation has now been together for 26 years, there is an intuitive understanding but the wild times have been left behind. In 2012, Les Sauterelles celebrated their 50th anniversary in Liverpool and returned in 2015 and 2017.
Back to bands