Julia Baird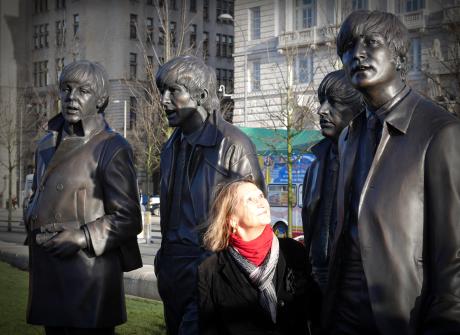 Description
Julia Baird is half sister to John Lennon and a Director of Cavern City Tours. She is also the author of – Imagine This – Growing up with my brother John Lennon.
You can see her at John & Paul: "It was Fete" and at the Convention on Sunday at The Adelphi Hotel.
Julia was born and raised in Liverpool. She has three children and three grandchildren. In her working life, she went from language teacher to school psychology, specialising in EBD adolescents (emotional and behavioural difficulties).  She retired in 2004 to write her book, and a strange twist of fate led her to being a Director of the Cavern .
As Julia says:
" For much of my life, only my very closest friends and, of course, family, have known about the life we had as children. My brother John, my sister Jackie and me, Julia. After years of hearing the pundits and the so-called experts, most of whom never met John, expanding their own version of our lives, I felt compelled to raise my head above the parapet. To tell it how it was. Hodder published my story, 'IMAGINE THIS, growing up with my brother, John Lennon', in 2006 (hardback) and 2007 (paperback). I wrote the story in an attempt to distinguish fantasy from reality and to establish an historic record for John, for me and for Jackie. More importantly, however, it is the story of our Mother, Julia. The American publisher changed the title from 'IMAGINE THIS', to 'THE PRIVATE LIFE OF JOHN LENNON, the untold story from his Sister'. I meet Beatle fans and John fans from all over the world, including many from the U.S. They express astonishment on hearing about the recent book, never having heard of it at home. My book is really the story of how the genius who was John Winston Lennon, who became John Ono Lennon, never stopped being just John, my big brother ".
Back to bands