Hellfire Preachers, The (UK)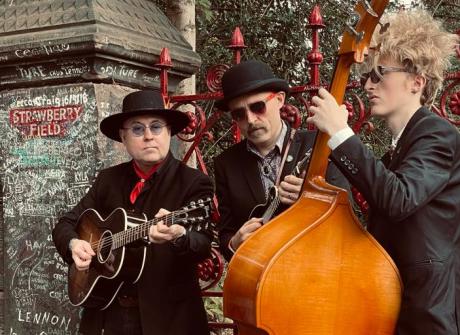 In 1974, a portal transported sonic vibrations from the Appalachian Mountains of east Kentucky, through one of the thousands of holes in Blackburn Lancashire, and directly into the young minds of two would-be pickers, without anybody around them even noticing. Thus began the journey of these two brethren, although not actually brothers, just good friends actually. 
Schooled by the ancients that helped raise them, they soon learned of the Mersey scene of '62, the worldwide frenzy that ensued, the artistic highs and tragic lows of the Beatle universe. Then one night, as the story goes, Dave awoke from a fevered dream with a clear voice in his head – a voice very similar to Charlton Heston in one of those Cecil B. DeMille biblical epics and knew it was the voice of The God of Rock and he said,  
"Preacher Dave – all you need is love, and a banjo!"  
He turned and woke his second son from slumber and proclaimed, "Preacher Charlie, pick up thy Double Bass and walk to the glorious light!" And that Preacher understood.  
Then, in 2018 and after years of hard graft, bolstered in their number to three, the Hellfire Preachers took their place on the hallowed Cavern stage and brought Liverpool its first taste of the Bluegrass Beatles Review, mixing their encyclopedic knowledge of Pre-War Old Time Country and Folk Music with the gospel of the saints, John, Paul and er… George and Ringo!  
Filling venues and delighting audiences across the Pennine way, the Preachers will bring you something different this Beatleweek. Expect the unexpected!  
Dave Gardner – Guitar and Voice
Matt Wells – Banjo, Mandolin and Voice
Charlie Wells – Double Bass 
Back to lineup