Hard Day's Night (USA)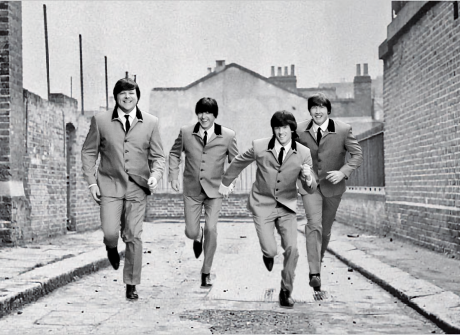 Formed in 1996, Cleveland's Hard Day's Night faithfully recreates Beatles' hits in a full catalogue live review. The chemistry of a father/son duo as Lennon & McCartney, a consistent cast, over 7 authentic costume choices, an arsenal of period correct backline and instruments (even a sitar), engaging visual production – delivered with youthful exuberance and laughter – guarantees a joyful show that unites the audience in peace and love.
Through their attention to detail, musical talent and dedication to authenticity, the group has developed a reputation as an elite Beatles tribute throughout the United States and Canada. After many years away, the band is honoured to return to the World-famous Cavern Club in Liverpool for another International Beatleweek. Notable performances include Casbah Club with original Beatle-drummer, Pete Best. Hard Day's Night has also been fortunate to share the stage with Billy J. Kramer, Peter Noone & Herman's Hermits and Badfinger's Joey Molland.
The band was recently featured in an ESPN SportsCenter story highlighting the Toledo Mudhens' 2017 Beatles jersey. In August of 2018, HDN played at Busch Stadium for St. Louis Cardinals' Beatles night. Hard Day's Night is proud to be a regularly featured artist at Abbey Road On The River, the top Beatles festival in America.
Hard Day's Night is privileged to recreate and perform the magical music of the Beatles for fans young and old and thrilled to introduce a whole new generation of Beatles fans to the excitement of a Beatles concert!  They are dedicated to keeping Beatlemania alive in one of the most authentic, all-live stage tributes seen today! Hard Day's Night is proud to carry on the legacy of the number one rock 'n roll group of all time – the Beatles!
Back to lineup