Gui Lopes Band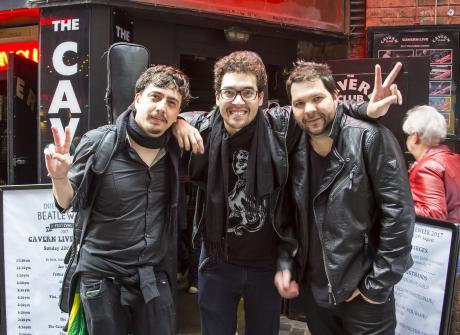 Gui Lopes Band (Brazil)
Gui Lopes is a multi-instrumentalist, creative producer and songwriter for Warner Chappell. Born into a very musical family, Gui started playing music at 6 when he was introduced to percussion and played with family friends' bands who hung around his grandfather's restaurant. At 9 Gui studied classical piano and after two years was ready for something more rock 'n' roll. At 11 he got into playing and studying drums, which led him to play in various bands and deepened his guitar skills with his bandmates during tours and rehearsals.
While producing and recording his own songs independently Gui was admitted to study at the EMB – Escola de Música de Brasília – and started going after opportunities on his own. After being on a famous TV show and having his song "Estranhos que se amam" broadcasted on the LATAM airlines radio, Gui moved to Rio de Janeiro where he had the opportunity to meet Roberto Menescal, music producer who listened to demo tracks and encouraged him to invest in his career. In the studio "O Barquinho" Gui recorded the album "Modo de Voo", and later, he worked with Luã Yvys, who produced the EP "Impulso" and the album "Se Eu Contar o Que Eu Vi", released in 2017.
In 2016 Gui met Bill Heckle while playing "Love in Vain – The Rolling Stones" at a kiosk on Copacabana Beach, which happened to be the second track on one of the first albums Bill ever bought. After the show Gui was invited to perform at Beatleweek '16 and the next year after playing the 2017's Beatleweek festival Gui had the opportunity to arrange a band to accompany Jon Keats to play a series of events and festivals throughout Brazil, including the São Chico Beatleweekend, in Rio Grande do Sul.
This year Gui Lopes comes with his complete band format, one of Uruguay's best guitarrists Miguel Bestard, Fabiano Matos on the drums and multi-instrumentalist Thiago Medeiros, who plays bass guitar, trumpet, piano, etc. You can expect fine musical improvisations and energy exchange within the band. Recently they recorded a new album in english, called "Timing", to be released this year at the Cavern Club and distributed via Warner Chappell. The band is always grateful and happy to come back with new ideas and make new friends!
Back to bands