Giambelli, Rolando (Italy)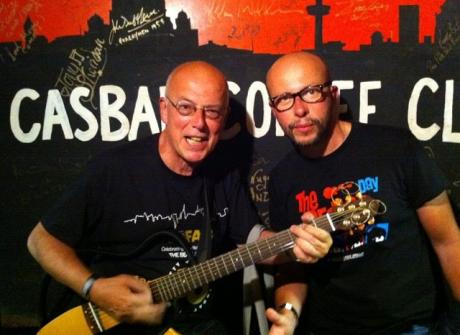 Rolando & Alex  (Two of Us – Father & Son) were founded as Two of Us, an acoustic duo in 1992 by Rolando Giambelli (Rhythm guitar, harmonica and vocal) and his son Alessandro (vocals and percussion).
The two family members share their love for the Beatles, which has influenced them in all aspects of their playing careers, not only through playing Beatles songs but also inspiring their own musical endeavours.
Rolando and Alessandro have been regularly attendees to the festival over the past 25 years and have played at some legendary Liverpool venues including, The Cavern Club, The Grapes, Lennon's Bar, The Royal Court, the Casbah Coffee Club, at the Albert Dock and in many great historical places in Liverpool, where they've experienced the warmest crowds and best fans, experiences like no other!
Rolando, together with the Italian Beatle People Association (a society dedicated to the Fab Four) spends much of his time passionately promoting the legacy of The Beatles, organising many events in Italy and abroad and keeping Italian fans informed and up-to-date about the various Beatles news and goings on in Liverpool and at The Cavern Club.
Back to bands