G-Pluck (Indonesia)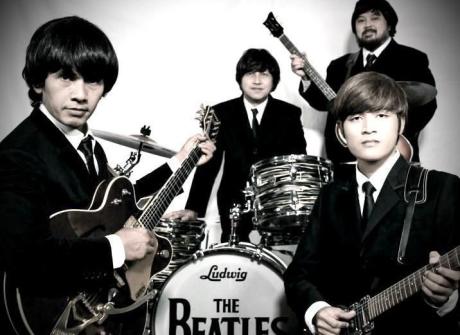 G-Pluck are an Indonesian Beatles tribute band who have an authentic approach, playing The Beatles' songs, true to the original keys and arrangements, with appropriately vintage style instruments (Hofner, Gretsch, Rickernbacker, Ludwig etc) and kitted out in 60s style clothing shoes and hairstyles.
Firmly in the "boots 'n' suits" style, this band have been playing for over 20 years, having formed in 2000; the line up has changed and the band has evolved into a slick and popular Beatles tribute band in Indonesia.
The lineup consists of Awan Garnida on vocals and bass as Paul McCartney, Gilang Pramudya on vocals and rhythm guitar as John Lennon, Fery Gustian on lead guitar and vocals as George Harrison and Beni Pratama on drums, percussion and vocals as Ringo Starr. They also strengthened the tradtitional four-piece lineup by bringing in an additional players keyboards, Aufa and Luthfi represent Billy Preston and the classic arrangements of George Martin.
In every GPLUCK Beatles performance they are not only focused on the musical precisoin precision but embody the personalities of the band and improvise their characters live on stage.  l known by the public. And they very well performedas the Beatles live on stage. 
This will be their first time at International Beatleweek!
Back to lineup