Faroese Beatles Puffin inc., The (The Faroe Islands)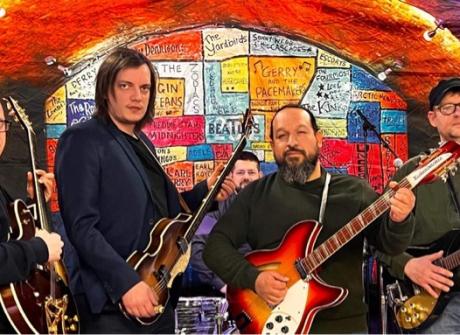 International Beatleweek is back to its best in 2022 after two unconventional years. 2020's festival was largely online, featuring videos from bands from around the world. However, we were allowed to open the Cavern Club briefly, with many social distancing measures, to have some live music in the club with our solo acoustic artists.
Last year, due to the ongoing issues with the global pandemic, travel restrictions etc, only one act was able to travel from outside the UK, Two of Us from The Netherlands.
This year we are looking forward to getting back to a more familiar festival, with bands from over 20 different countries once again, including this band from The Faroe Islands, making them the first band in Beatleweek history to participate from the Faroe Islands!
The band have been around for 20 years and started off playing in their local area of Thoshavn but quickly got invited to play over the Faroe Islands at festivals and other events as well as private parties, weddings and so on. They're renowned for their dedication to good old fashioned Rock 'n' Roll from the '60s and '70s.
They're looking forward to making the pilgrimage to Liverpool and follow in the footsteps for their heroes when they step on stage at The Cavern Club!
Back to lineup